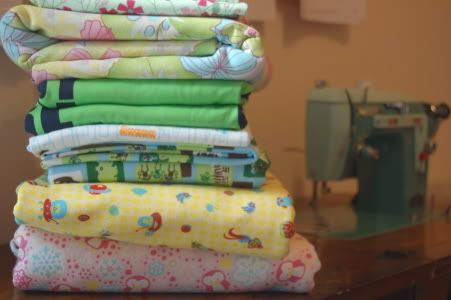 16 yards of fabric heaven! LOL I got this in the mail the other day and it is such a glorious stack of knit fabric. I canNOT wait to cut into it for the kids. It is now prewashed and ready to go...knit dresses/sets for the girls and fun raglan tees for the boys! I just need to make sure I have a stock of ballpoint needles ready to go.
Speaking of yummy!
I tried a new recipe yesterday that I found on the back of a chocolate chip bag and must share it! It is for yummy Banana Chocolate Chip Bars. Kinda a mix between banana bread, cake and chocolate cookies.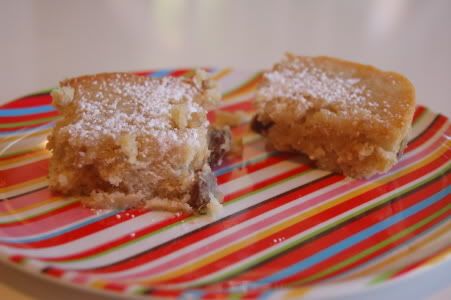 You need:
2 C all-purpose flour
2 tsp baking powder
1/2 tsp salt
3/4 C butter softened
2/3 C sugar
2/3 C packed brown sugar
1 tsp vanilla extract
3 medium ripe bananas, mashed
(I recommend using a potato masher)
1 large egg
2 C chocolate chips
powdered sugar
Preheat oven 350F and grease 15x10 baking pan.
Combine flour, baking powder and salt in medium bowl. Beat butter, sugars and vanilla in large bowl til creamy. Beat in bananas and egg. Gradually beat in flour mixture and stir in chocolate chips. Spread in pan. Bake 20-30 mins (mine took about 25). Sprinkle withpowdered sugar. They are excellent warm! Because they are so moist I recommend storing leftovers in the fridge. When eating leftovers, microwave for 20 secs on high on plate and get out a fork and glass of cold milk!