When I buy clothes for Kalla I tend to just get pieces and not whole outfits because I usually suppliment with homemade stuff. There was
this skirt
that I got her this summer that would be more of a pain (lots of tiers) to make and worth it to buy. It was her very favorite piece of clothing. So when the catalog (Mini Boden) advertised clearance I found another in a different color. So we got it, but no shirt to match. So I made her an applique shirt to wear with it. She asked for a cat. So I searched 'cat coloring pages' and found
this one
to use.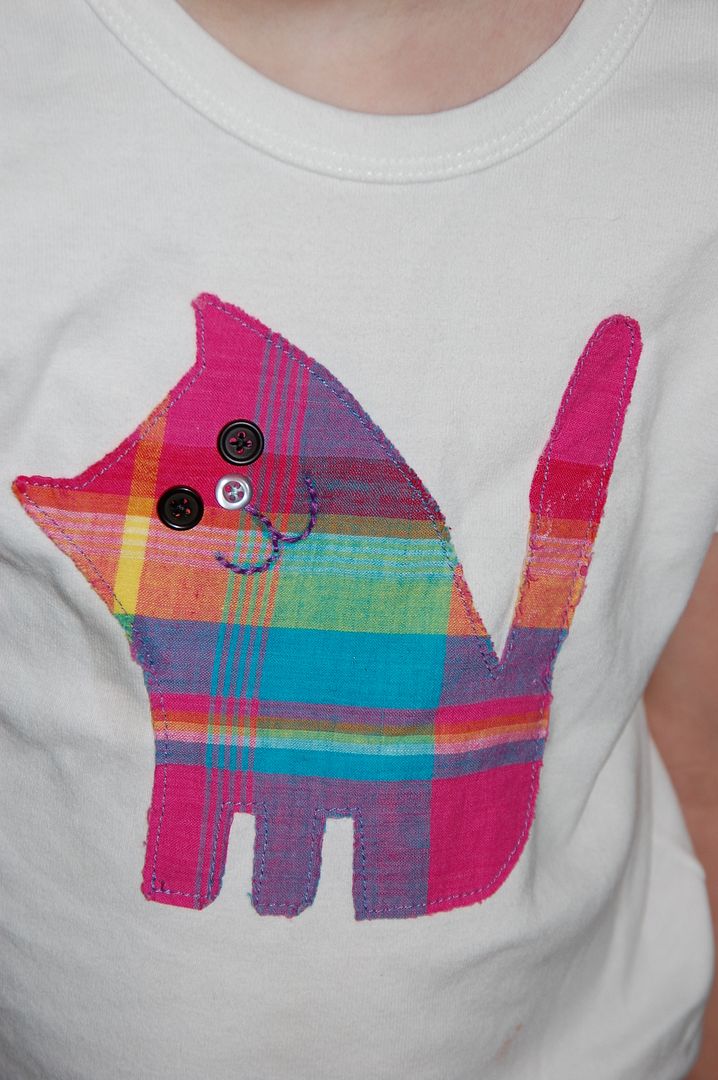 To make your own cute kitty tee you need wonder under lite or something similar, a tshirt, scrap of fabric and some buttons and embroidery thread. First print the
coloring page
. Flip the page over and trace the image with a marker or dark pen. Now lay your fusible on top with the paper side up (glue side down) and trace your reversed image. Cut out your fusible around the cat, but not on the lines yet. Iron the cat down on the wrong side of your fabric. NOW cut out the fabric and paper along the outside lines. When cooled peel the paper off. Now place your cat on the tee and iron down. I topstitched mine, but you can satin stitch if it's your preference. If you satin stitch you need to place a tear away stabilizer on the inside of your tshirt. Once sewn down you can add eyes and nose by sewing on buttons. Then I used embroidery thread to sew on a mouth. I used a back stitch. If you've never hand embroidered before, then check
here for some basic stitch tutorials
.