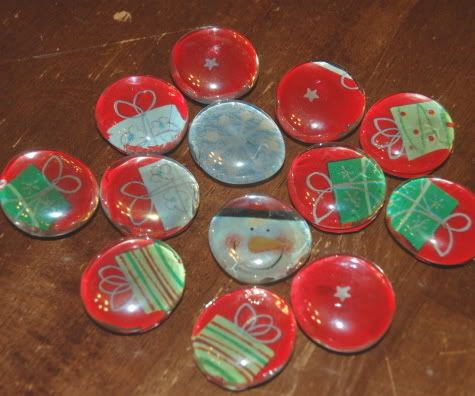 Getting a running start on Christmas this year. I always seem to get out everything last minute and stress over it. This year I'm determined to make most of the gifts. Starting with these
marble magnets
for the kid's teachers. I've had the supplies for a while and yesterday got the kids to help me do these. We have a bunch more to do, but a good start. Going to order the tins to put them in from Oriental Trading. I also have large flat head push pins to do with the marbles too.
Trying to think of some craft type decorations too. So I've started some mittens to make a garland for the playroom fireplace. Will post pics when they are done! :)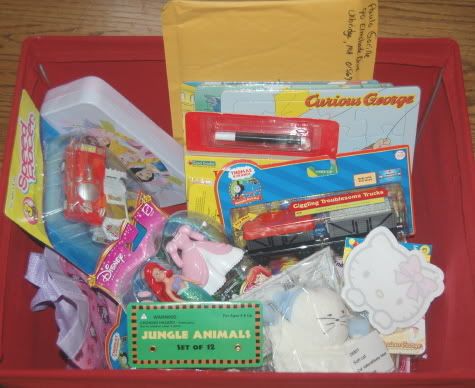 And last but not least I've been collecting stocking booty for the kids. Looks like a lot, but not really for 4 kids. Maressa is done with 3 things (and maybe a mini box of Cherrios). Aside from a bag of marbles for Z and couple of mini ponies for K, I'm done. Most of this stuff came from Target's dollar section...they have some of the kid's fav character stuff there right now....Curious George and Hello Kitty. Micah's has some animals and cars too. And the boys the Troublesome Trucks that giggle (got one for both as I don't feel like the headache of all the fighting over them). :)
And today I put up the a prelit small tree we have to try for some pictures for the cards, then I can start on the calendars.