I have been perusing different granola bar recipes over time meaning to give them a try. Various ones I've seen had mixed reviews with texture issues and whatnot. I loved the way this simple healthy (all whole grain ingredients) this one sounded and motivated by needing something to take to
cub scouts
yesterday, I decided to give it a go. I was almost afraid to fail with little time that I almost just made oatmeal cookies instead.
Being the risk taker I am, I gave it a whirl. Let me tell you these are PERFECT! I loved them and so did all the kids (even K who doesn't like/eat granola bars). Z wanted one for dessert after dinner (I only let them have one at snack). Other than K, the other 3 usually have a granola bar for after school snack every day. I hate that either I have to spend a small fortune to get the organic/preservative free ones or succumb to Quaker Oats and their
BHT
and high fructose corn syrup. Not that we are perfectly avoiding these things...hey our grocery bill is incredible as it is without all the 'fancy' preservative free food (we are loyal to organic milk products though).
So with no further adieu, here is the recipe in my words from
Super Healthy Kids
(check out their site for other healthy kid food ideas).
Basic Granola Bars
2 C oats
1 C brown sugar
1 C whole wheat flour
1/2 tsp baking soda
1/2 tsp baking powder
1 tsp cinnamon
1 tsp salt
1 tsp vanilla
1/2 C honey
And for my first batch, I added 1/3 C mini semi sweet choc chips
Mix all ingredients. Will be crumbly when mixed. Grease 11x13 pan. Press dough firmly in pan with bottom of measuring cup (it seems I've read reviews on homemade granola bars before where folks attested to the firmer it is packed the more successful they hold together when done so I packed it as tight as I could get it). Bake 325F for 20-23
mins
til edges are browned. Let cool completely. Loosen edges and flip the whole thing out gently on a cutting board. Cut into strips. I got about 20 bars. Opt drizzle a tiny amount of white choc bark on tops.
I must say I am NOT a huge fan of whole wheat flour or honey as a sweetener so I was super skeptical. I didn't even care for the flour/honey smell as it was baking. But let me tell you! These are just as good as cookies! The downfall of these 'healthy' granola bars are they are not lacking in calories I'm sure, and they are quite addicting. But I feel much better letting my kids have one for snack than the boxed version. I am going to make several more pans today and keep a dozen in a air tight container and freeze the rest.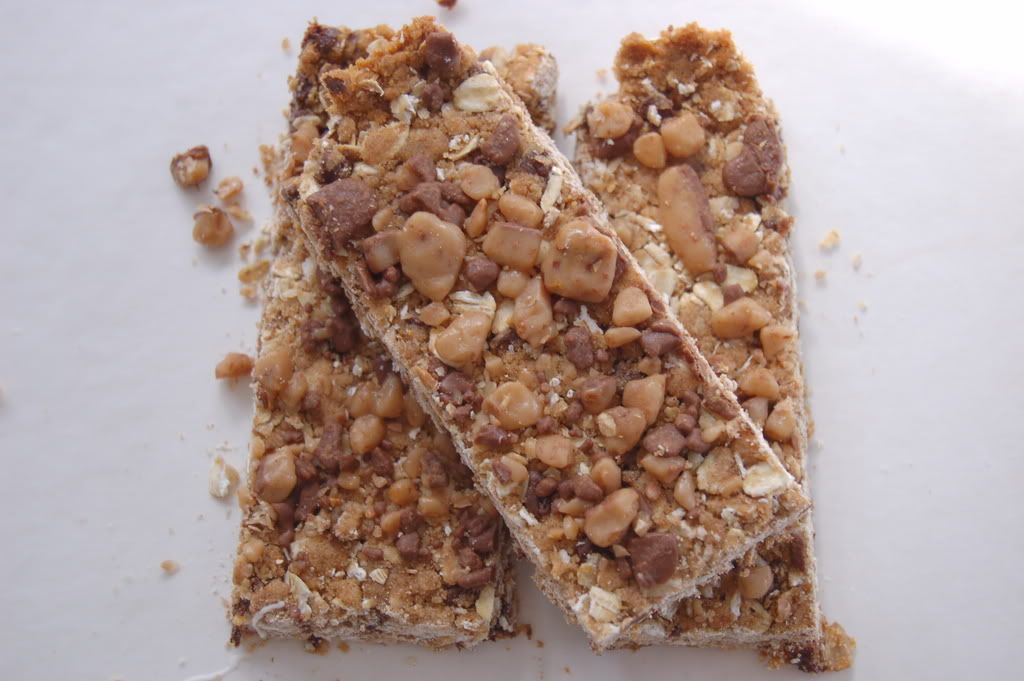 Oh and I did a small test sample of toffee topping. VERY yummy too...just sprinkled a little toffee chips on top. I'll probably make many more of these.
Oh and get creative with add ins...dried fruit (I think
craisins
would be divine), various chips, coconut, sunflower kernels and I'm going to add wheat germ to my next batches (for those who've never tried wheat germ it sounds pretty weird, but it has a pleasant nutty flavor and packs more nutrition).