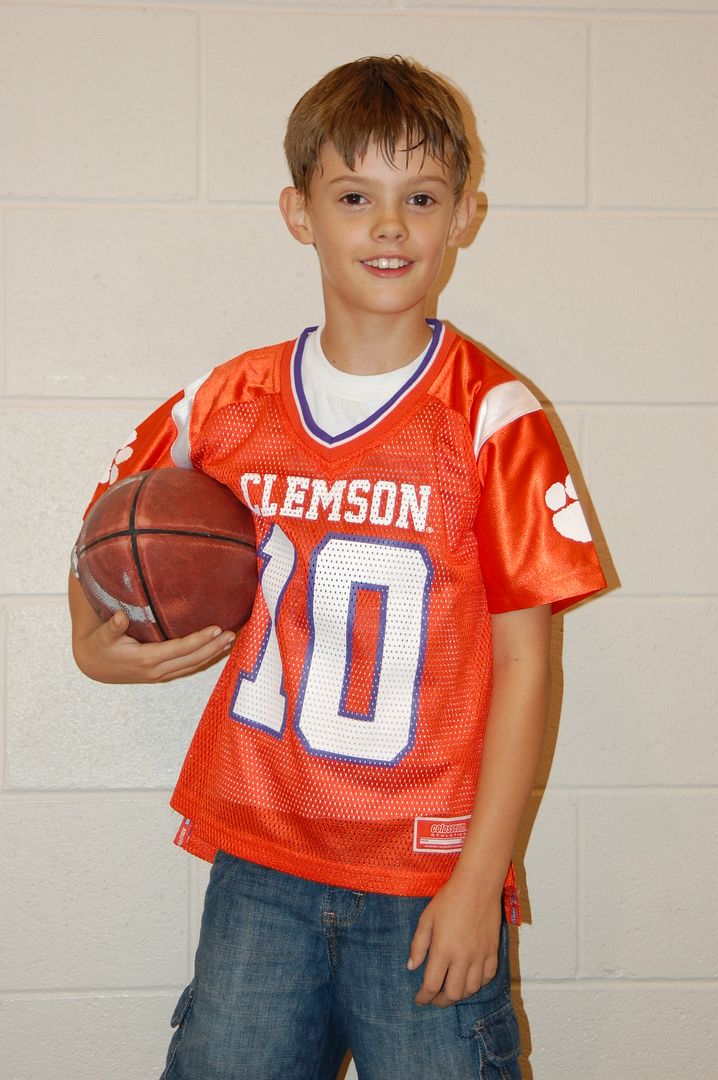 My oldest will be 8 tomorrow and we celebrated with a football themed party this past Saturday. He got his new jersey and all the boys and dads played flag football. It was planned to be at the park down the street and I had all these romantic ideas in my head of pictures of him playing in the green grass and the lovely trees changing colors framing the background. But alas, it rained cats and dogs all day...all week actually...and still going. So the back up was to have the party in the gym and kitchen area at our church building. It still worked out really nice and everyone had a super great time. Here's the details: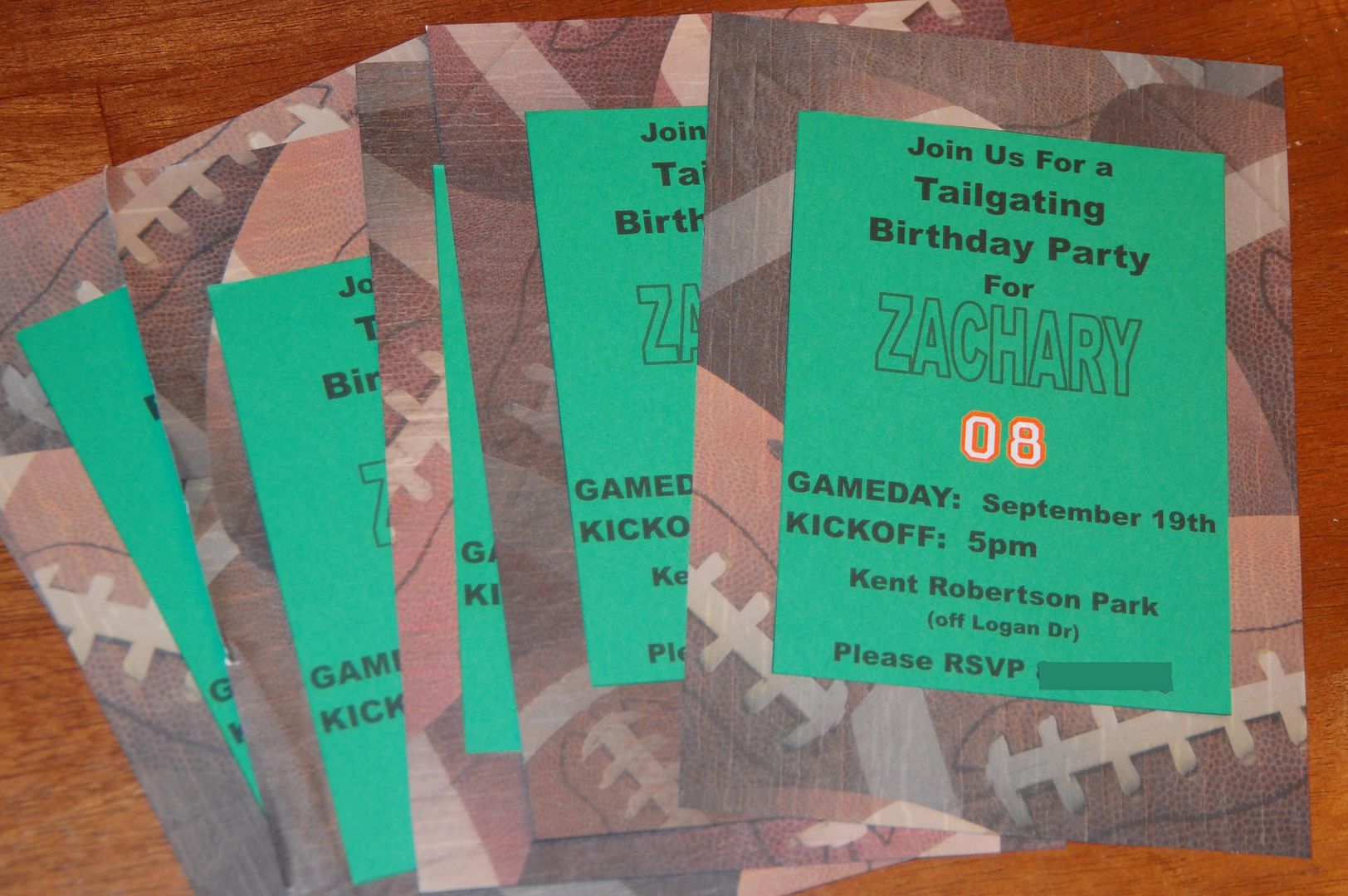 The invites~football scrap book papers and 'turf' green with the details.
Decorations~
*felt pennant garland (
how to here
)
*Happy Birthday sign: green poster board with painted (used a white paint pen) yard lines and used
this font
to print and cut the letters on orange card stock
*jersey shaped sign: cut poster board (of which I know is not the 'right' orange, but you only have so many choices in poster board) and used actual jersey laid on top as template, then used paint pens to mark stripes and paw print and used
this font
to print the numbers
The food~
hotdogs
(
bday
boy's request) and grilled brats for the adults, football shaped pretzels found at
Walmart
, sun chips, giant dill pickles, veggies and ranch and fresh sliced oranges, apples and grapes. Of course the plates and napkins were our college colors and I covered all the tables in 'turf' green table cloths.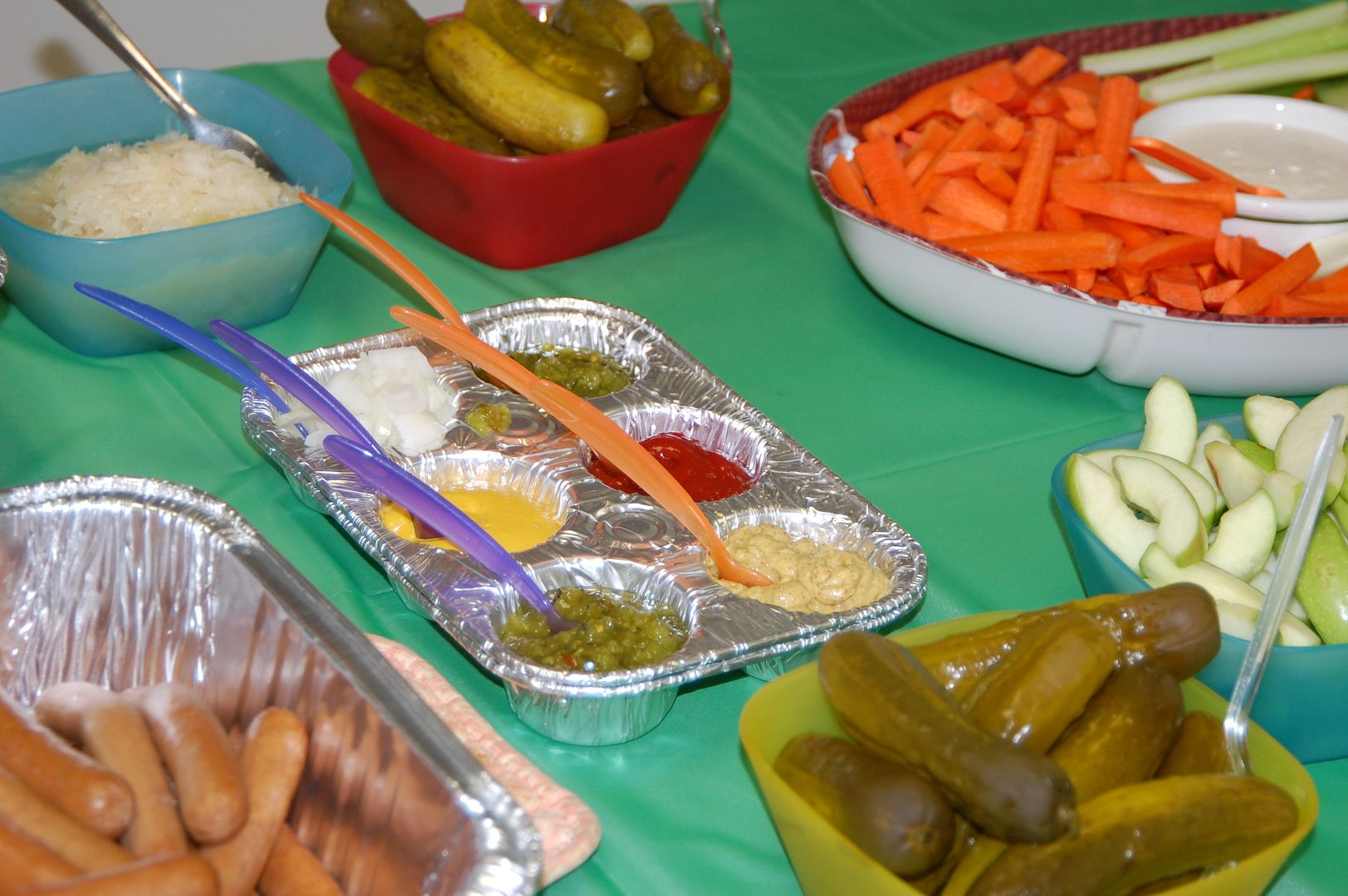 For the condiments I used a disposable muffin tin and those are take n toss baby spoons to dish them out.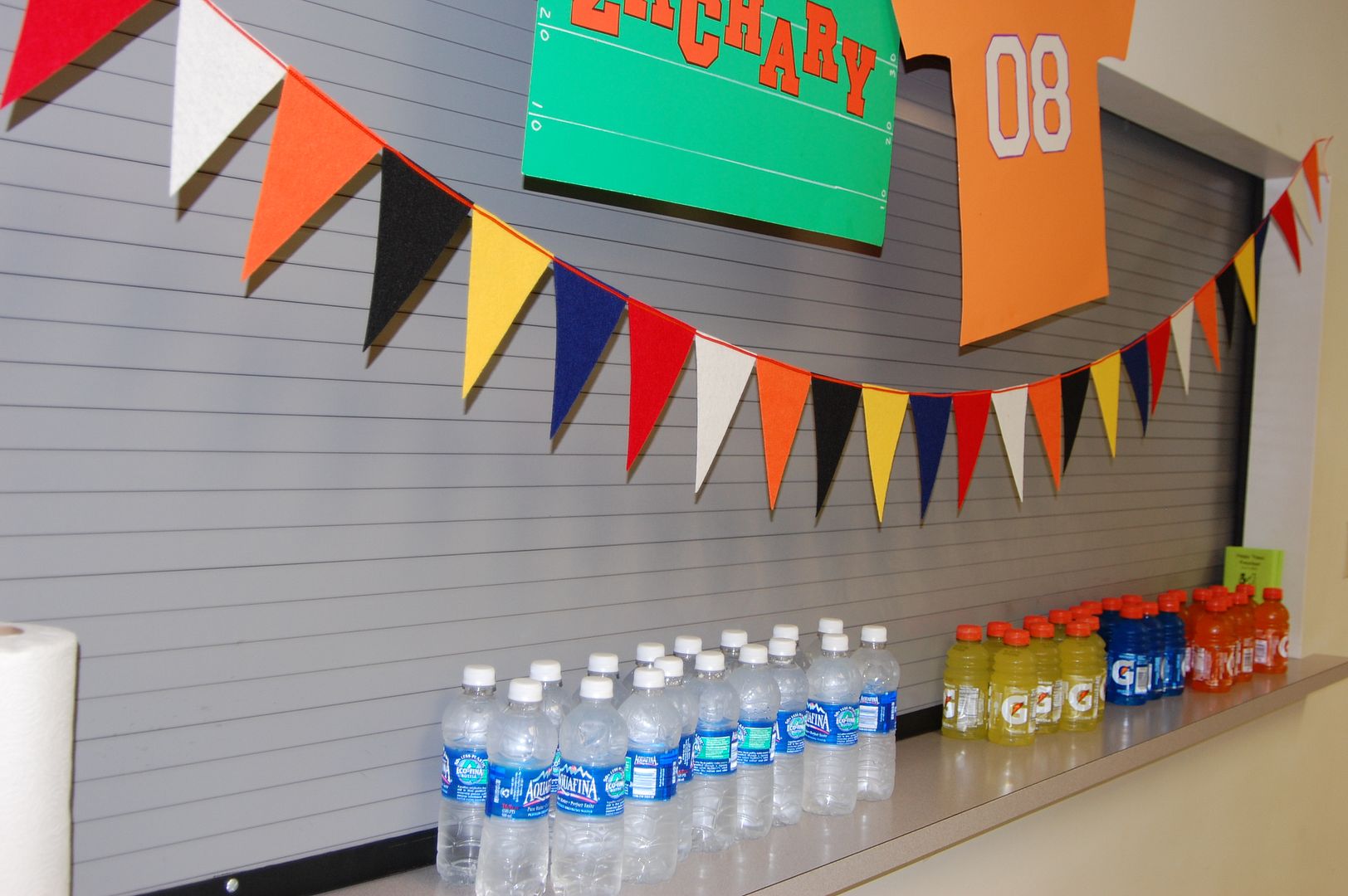 Course lots of beverages for all those sweaty football playing boys!
Football cupcakes~toothpicks from Hobby Lobby. I made chocolate with chocolate frosting (
bday
boy's request again) and dabbed on a little green for 'grass'. The cool cardboard football stadium trays came from Hobby Lobby as well.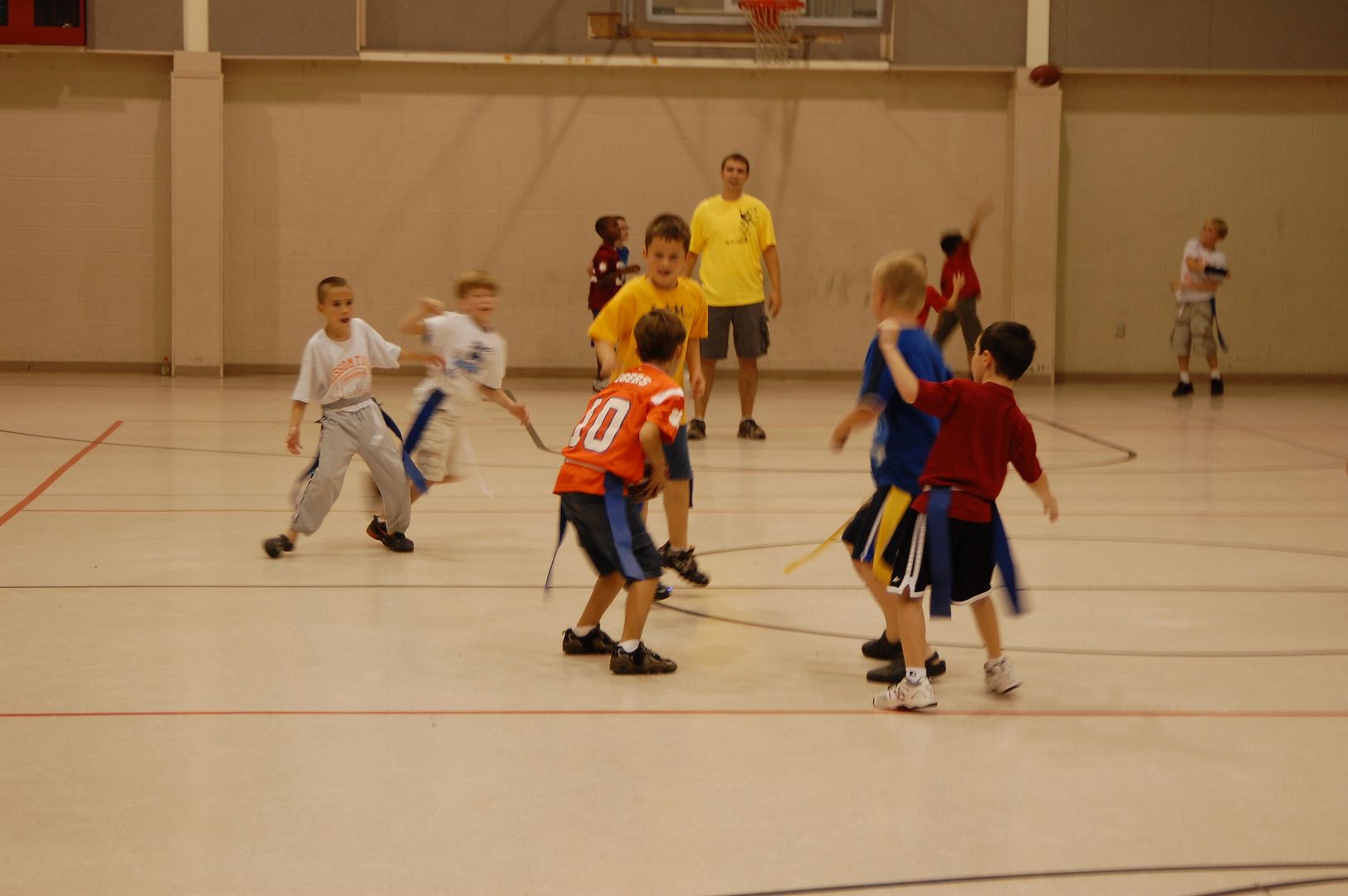 The activities~I got 2 dozen football flags at oriental trading and the boys played a couple of games of flag football (hubby organized this part though...there were 4 teams and the dads were the quarterbacks).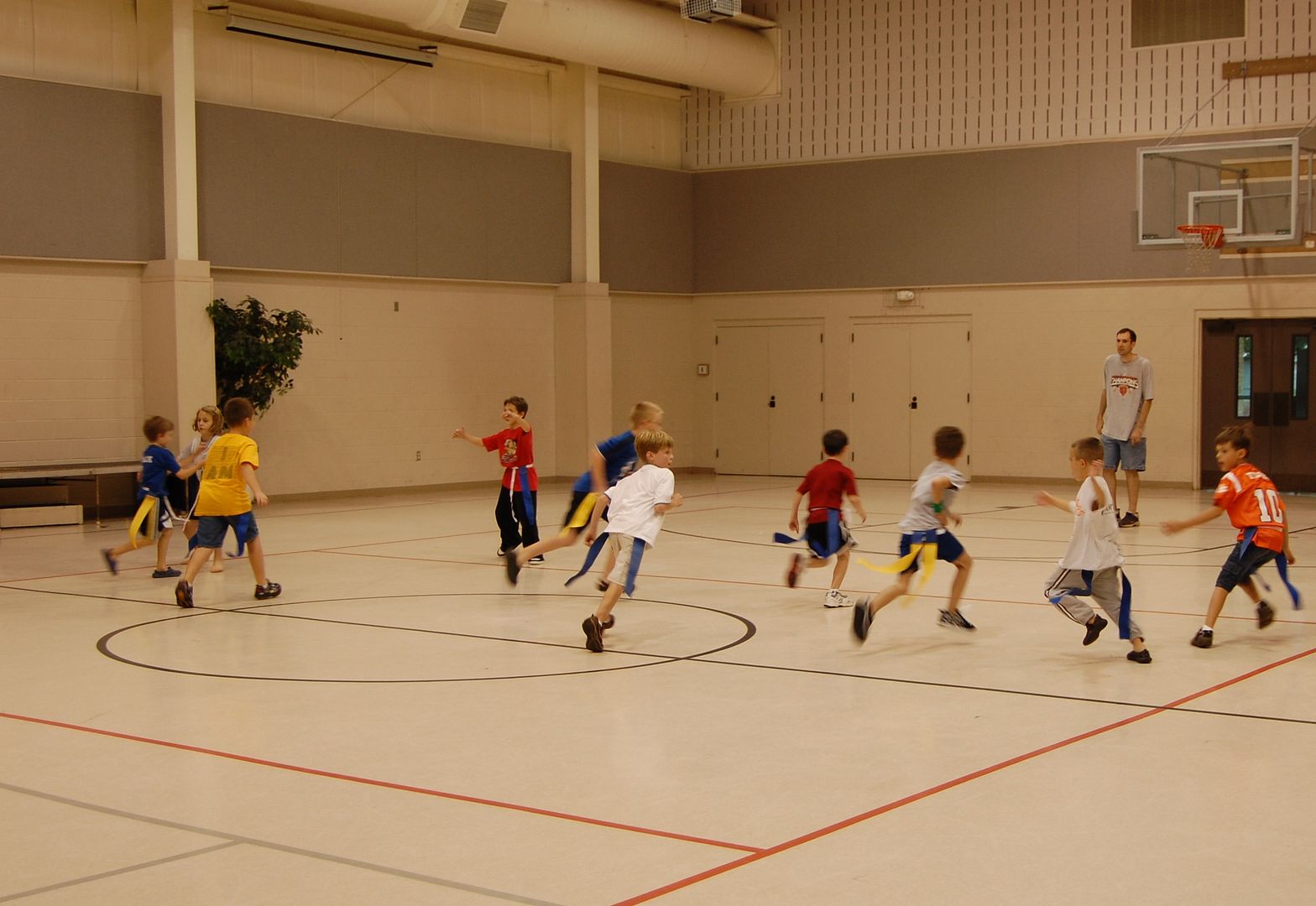 Zachary made a touchdown and had a BLAST!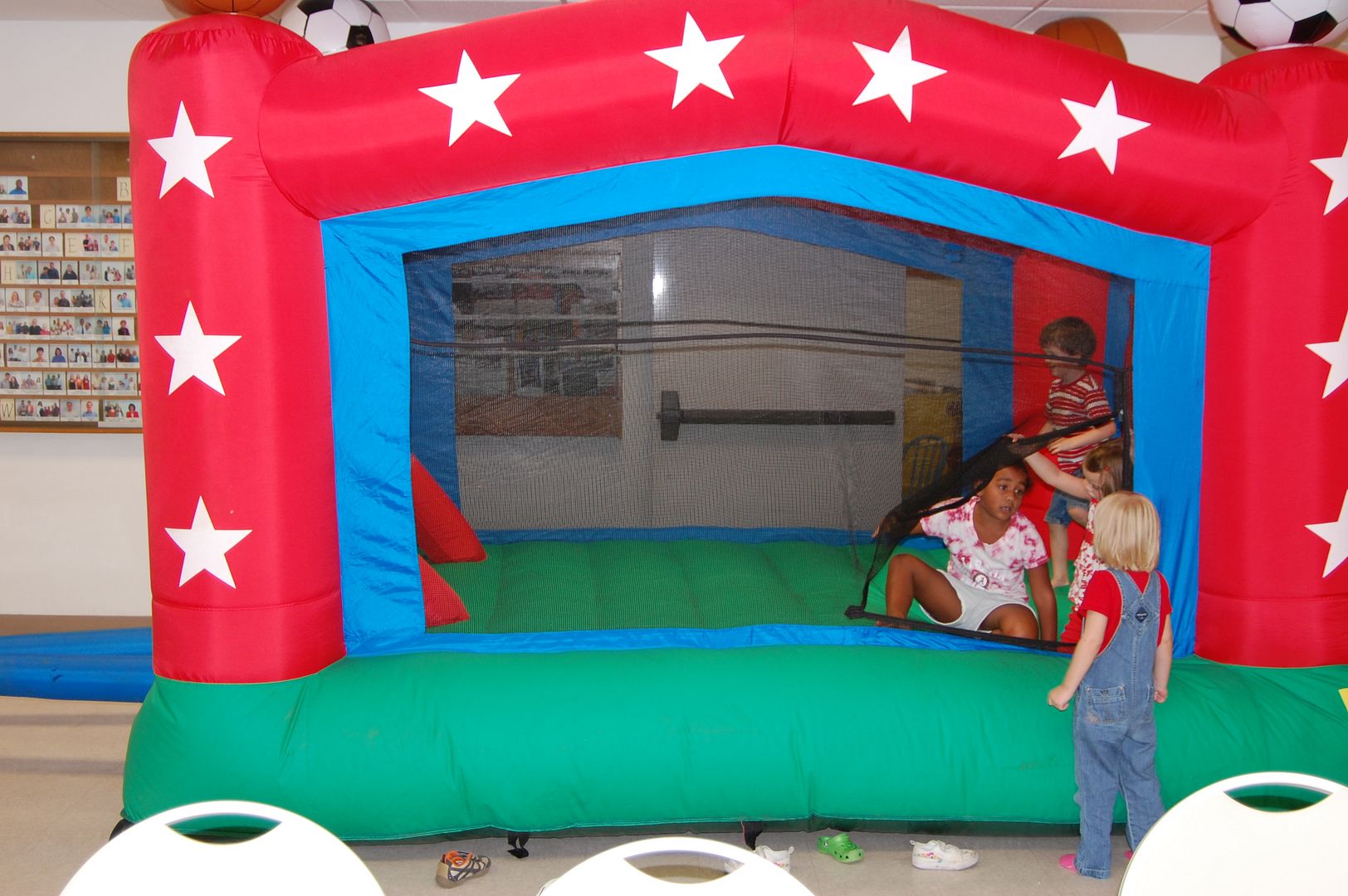 To entertain the sisters and younger brothers I brought our small bouncy (it was said that the younger brothers pretended to play football and took turns tackling each other
lol
).
And I brought a stash of crafts...loads of construction paper, crayons, printer paper, scissors, glue and stamps. When this was going to be at the park it was going to be no big deal since there was a playground. Since it got moved indoors I had to come up with something since the big boys were going to be occupying the whole gym with their games. This table seemed to be a hit.
And the party favors...I posted about already, but thought I'd contain all the details in this party post. These were plastic popcorn containers each containing a mini bag of microwave popcorn, mini candy bars, mini football missiles and mini #1 fingers. Sources can be found in this
post
.
I also made each boy a key chain with football beads and their name and a little hook that I forgot to take a pic of. Z just loves hanging things on his book bag. We'll probably be making some of these for
Christmas
gifts so I'll post on them soon. :)