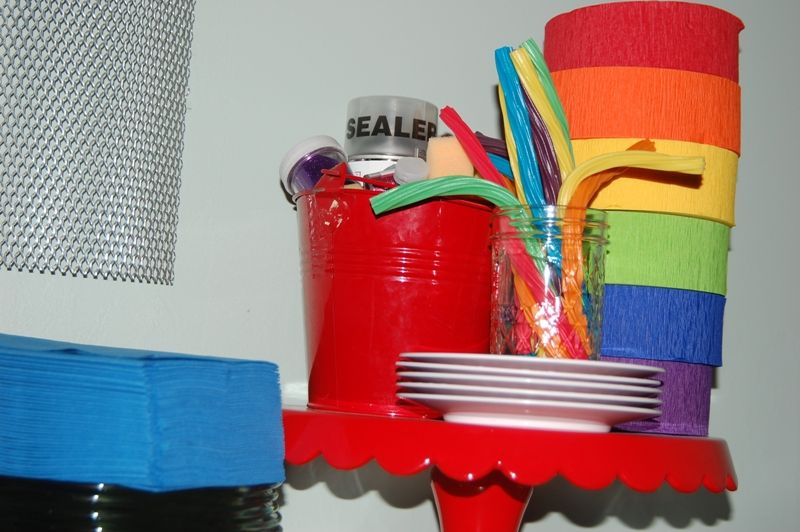 Full on party prep going on here with my fav party of the year coming up for my upcoming 7 year old!
I'm not sure which of us is excited more!
Did you know that unicorn, at least nice simple girly girl unicorn party stuff is pretty scarce?
This is supposed to be a unicorn themed party (as requested by K) with rainbow color scheme/accents. But I admit this is turning into a rainbow party with a few unicorns invited. lol
Color, color, color, oh how I live for color! ;)
All the details coming up on Mon.
Now a little blog business. First, my hubby showed me why my blog is loading sooooo slow. So hopefully I got that squared up so that from here on out hopefully it will get better.
Second, after deliberating for a while, I decided to do a fan page on facebook. If you'd like to join my page then you can click on my facebook box over there on the left. If you do come over, please share your website/blog link. And please feel free to share any pics of crafts you make from my tutorials or anything else I talk about. Share any mommy tips or recipes. :)
Oh, and I SORELY need a new pic. This one is from '08 and my hair is much longer (though will prob cut it shorter again this fall). I am seriously not in any pics ever...well except for a few shots my hubby took of me playing with the kids in the ocean at the beach, but you won't catch me putting those photos up!!!
Anyway hope to see some of you guys over there!