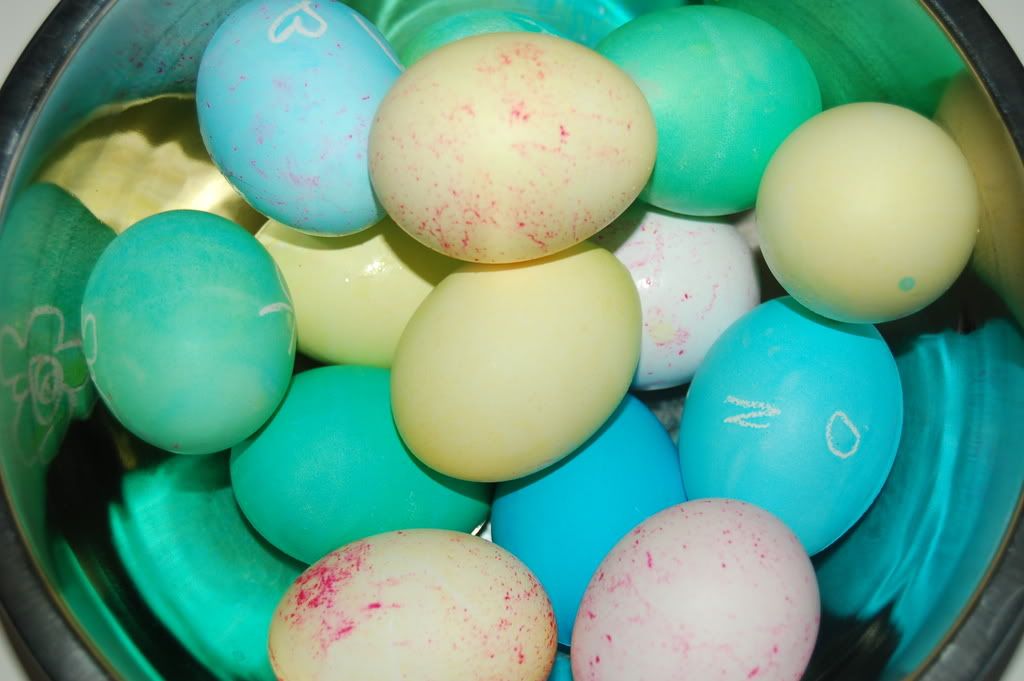 Rewind to Easter. We dyed eggs of course. We just finished eating them all as I had to boil 18 so they would each (the older three that is) have enough to dye. I ended up making a batch of deviled eggs at the end for a lunch I had company over for. I kinda miss eating a boiled egg for breakfast though, so I might have to boil some more.
Then I made a special feast for breakfast that morning. We had boiled eggs and fruit and donuts...the kind my dad made me as a kid. They are SUPER easy. Just take canned
biscuit
dough and pull a hole in the middle of each and deep fry them til they are golden on both sides. When I was a kid we would put powdered sugar in a brown paper bag and shake them in there. But this time I made glazed donuts. I simply mixed a little milk and margarine in some powdered sugar and drizzled the mixture over the donuts. Then I added some sprinkles.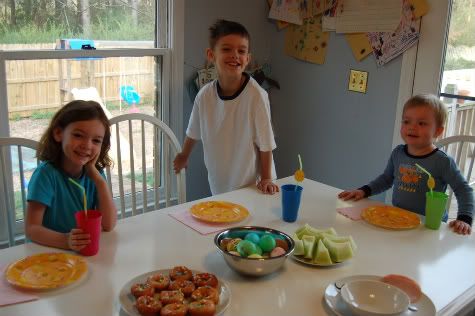 Then they got their baskets of course. Zachary has a thing for ties, so he wore one on Easter.
I made these little rabbits from this book for their baskets. I didn't get a pic of them before I gave them to the kids, so here they are a little loved on and they did all have sweet little ribbon bows around their necks. It took all of 2.5 seconds before the kids all pulled theirs off. I did add some rice to the ends of the legs arms and bottom of 2 of them to see if they would sit better and to keep the arms from sticking straight out. The kids were undecided on which they preferred.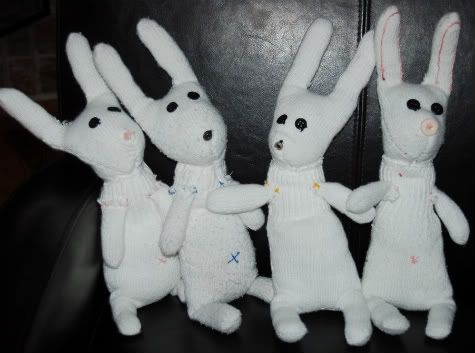 And I made the girls a new dress to wear. I've had this sheer cotton fabric with floral applique forever. So I made Kalla's dress with it. She wasn't real impressed. Especially when she saw that Maressa's was pink. So I added the pink trim to the neckline and hem and she was a little more enthused. :)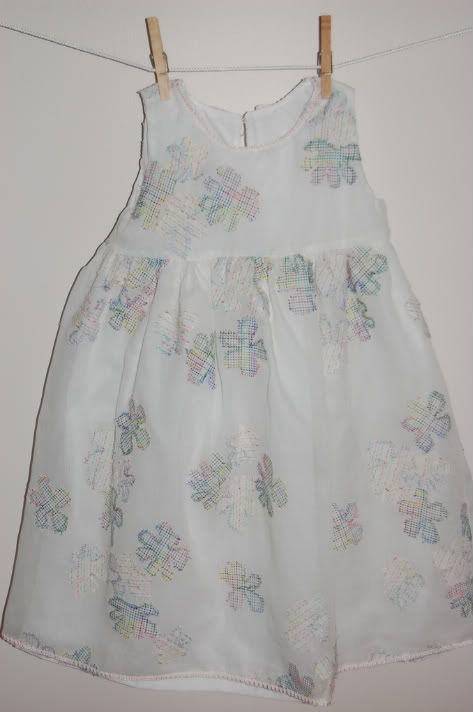 Here is M's dress and bloomers. I just LOVE bloomers on babies! I hope to make her several set of swing tops and bloomers for summer.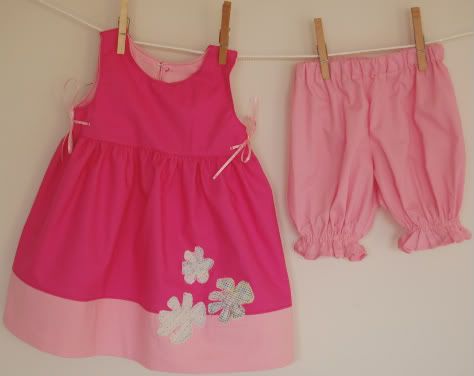 And I made one other dress this particular weekend. A sweet
tshirt
dress and bib for my friend's daughter's 1st
bday
. I just fell in love with this madras plaid and can't wait to make a set for M and shorts for K and a skirt for me!
Well, that's it for today. Have painting to do in the playroom. Maybe some sewing. And a couple of dinner's to make. Tomorrow I'll share my gifty cupcake soap.