I have not been able to stop thinking about these autumn leaf pocket pies since seeing this
post
on Not Martha. So I finally got some stuff to make them the other day and boy oh boy, YUM!
I made cherry pies, which were a little tricky being that the cherries are so fat. But I simply got the roll out pre-made pie crust and cut a bunch of leaves into it. Then a small dollop of cherry pie filling (my favorite!). In retrospect I would recommend smearing a bit of the sauce part of the filling around close to the edges so there is cherry flavor in every bite.
As you can see I got kinda greedy with the filling and they kinda bulged when I put the top leaf on. But it's all good! Simply press on top with a fork around the edges. Then brush on egg white and sprinkle sugar on top.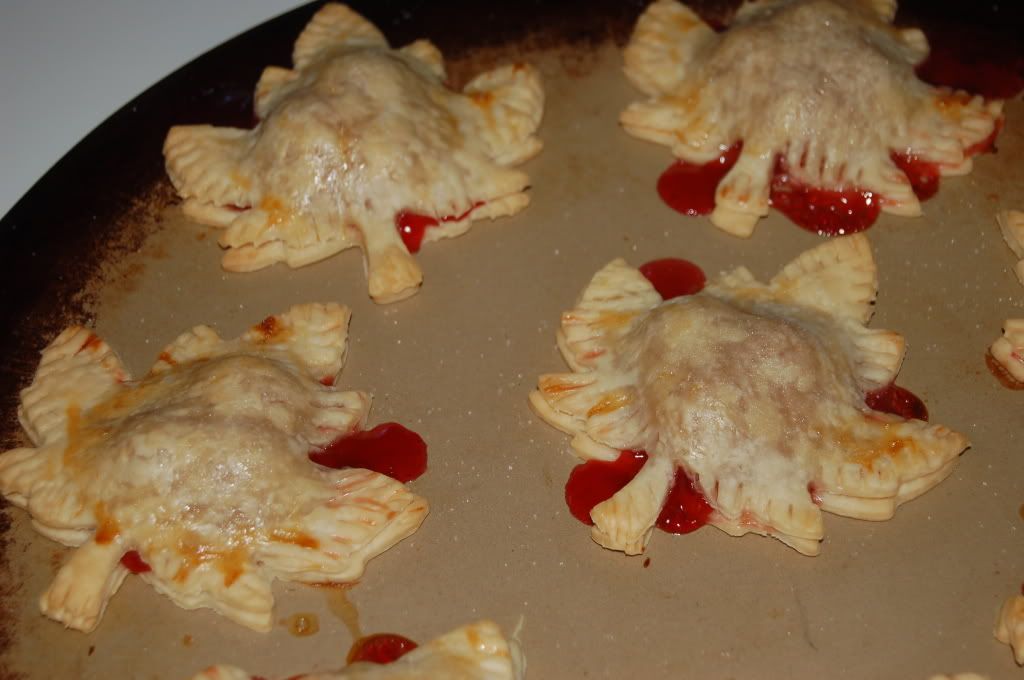 Bake in oven about 375F for 15-17 mins.
I just love how these can be served like cookies, no utensils needed...unless you eat with a scoop of ice cream like I did! And these were super easy to make with my shortcuts (premade stuff). Kids can easily help make these. Another version can be seen here at
Family Fun
. I plan on using their idea of chocolate chips, marshmallows and what not as a kid activity over Thanksgiving (we're going to be a cabin in the Smokies with my kids and 3 cousins that weekend). I figure the kids can make up what ever combos they want.