We had K's Six is Sweet party this past Saturday morning. It was by far one of the best
girly
girl parties I've had. I've got a good many pics, but not as many as I'd liked as it was a little crazy with 9 giddy girls and a few siblings (and a couple of grumpy, this-is-icky-girl-stuff boys I know of...I had to remind Z of his 'cool-all-boy-football' party in 2 months ;) Anyway I will briefly tell you what we did and I'll do some how
to's
on our party crafts tomorrow or Wed (tomorrow is actually K's
bday
and we have a full day planned....going to
Krispie
Kreme
for doughnuts and then to the park downtown to feed the ducks, then to the pool that afternoon/evening).
**You can find the links to my inspiration/party decor ideas and party favors and our invitation in
this post
. **
DECORATIONS: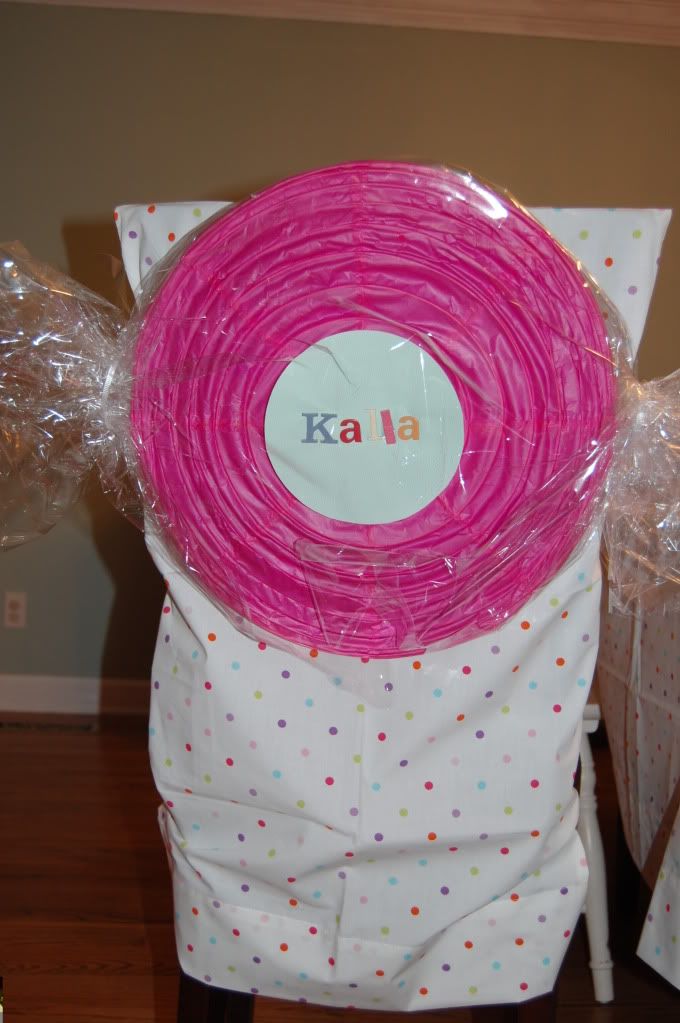 I purchased a cheap polka dot sheet set from
Walmart
and a hot pink one on clearance at Target for the table cloths. On the food table I put the hot pink flat sheet and layered the polka dot fitted sheet over it. The gift table was the pink fitted sheet and the dining table the flat polka dot sheet. Also on the gift table was a small basket of candy necklaces handed out to each guest upon arrival.
I had the idea to cover the birthday girl's chair with the pillow case and I made her the sign (which
btw
she now wants to hang in her room :).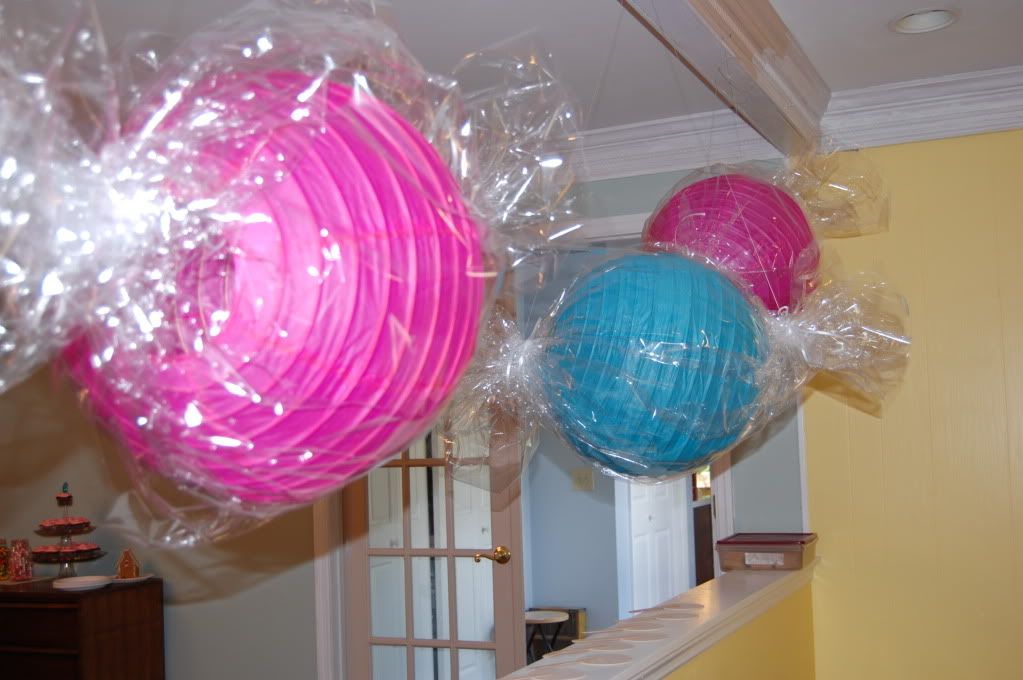 The giant candy is simply round paper lanterns wrapped in cellophane and hung with fishing line. They were $2 each at Hobby Lobby seasonal section.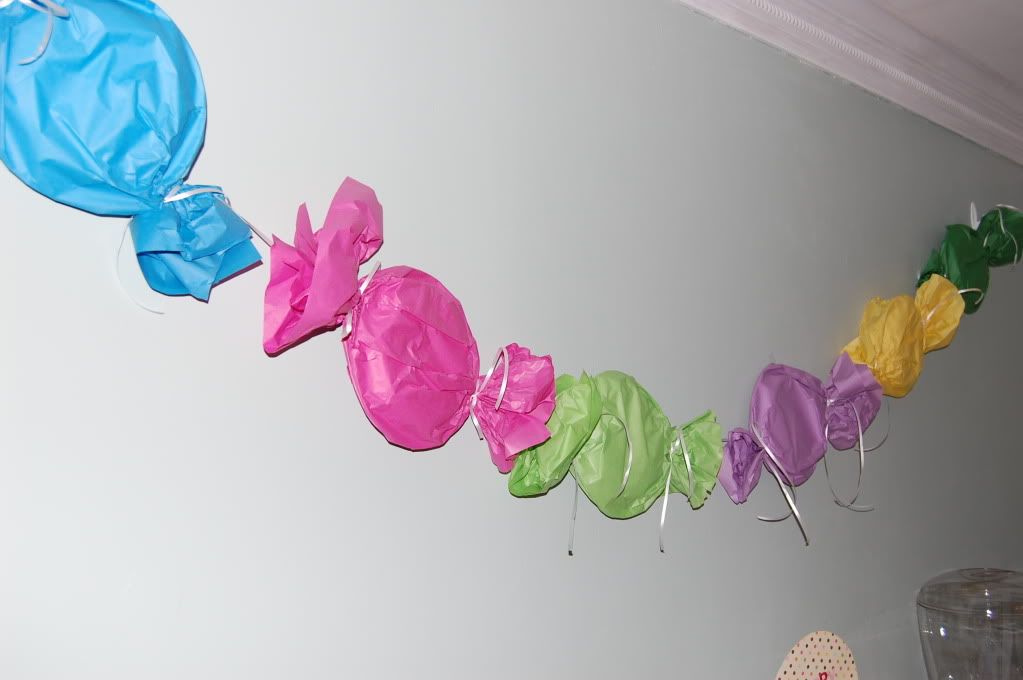 This candy garland was my own idea. I took white sturdy paper plates and wrapped them in bright colored tissue and twisted and tied on each side and then strung together.
PARTY SHIRT: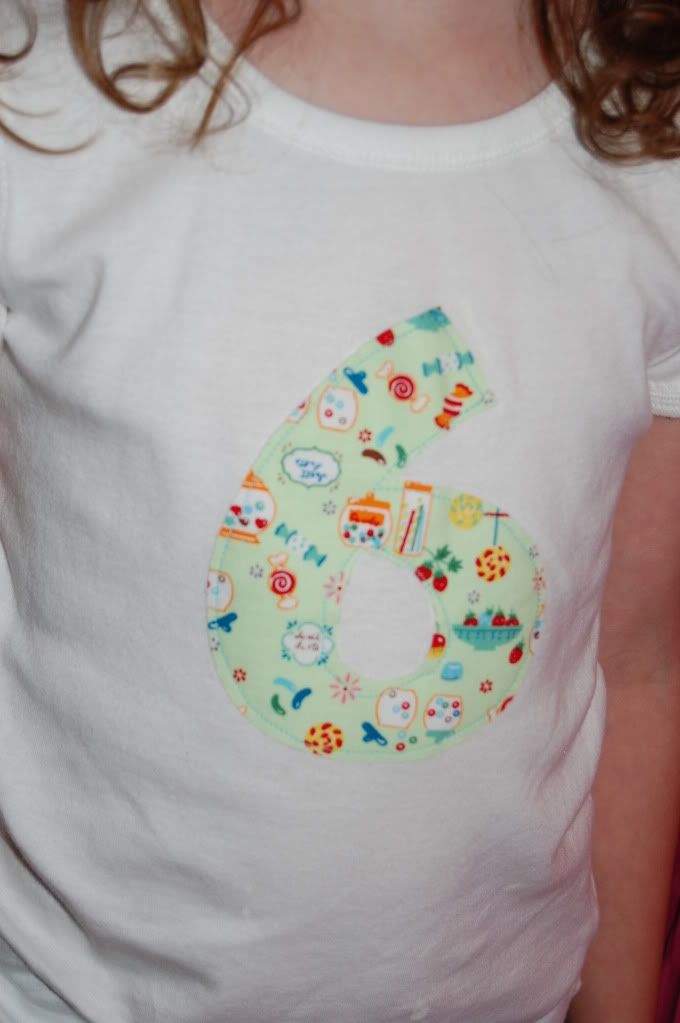 I found this super cute candy/sweet printed Japanese fabric on
etsy
and bought a fat quarter and appliqued a six on a tee and it just happened to match her very
fav
skirt. Now I've got to get it all washed because I was informed this morning she NEEDS to wear it for her actual birthday tomorrow. :)
Cupcakes per request. Chocolate with pink icing please mommy. I wanted to stick lollipops in them, but they were too tall for my cupcake tower.
ACTIVITIES/CRAFTS: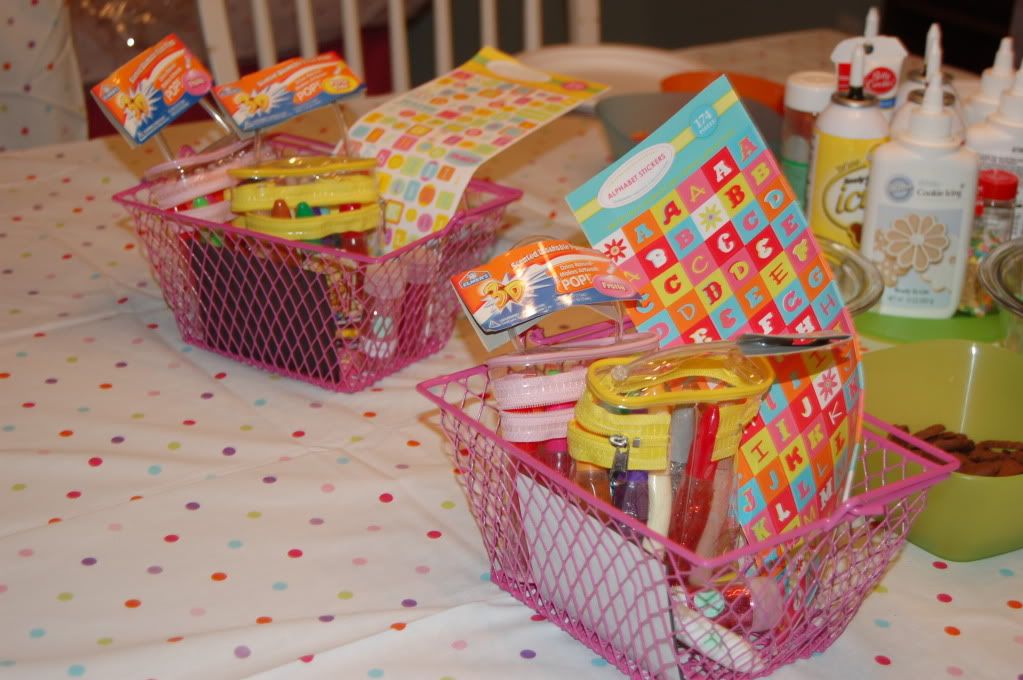 We did 2 crafts. We made lollipop magnets that were painted with yummy smelly paint and glitter of course!
We also did gingerbread houses.
Some were heavily helped by the mommies.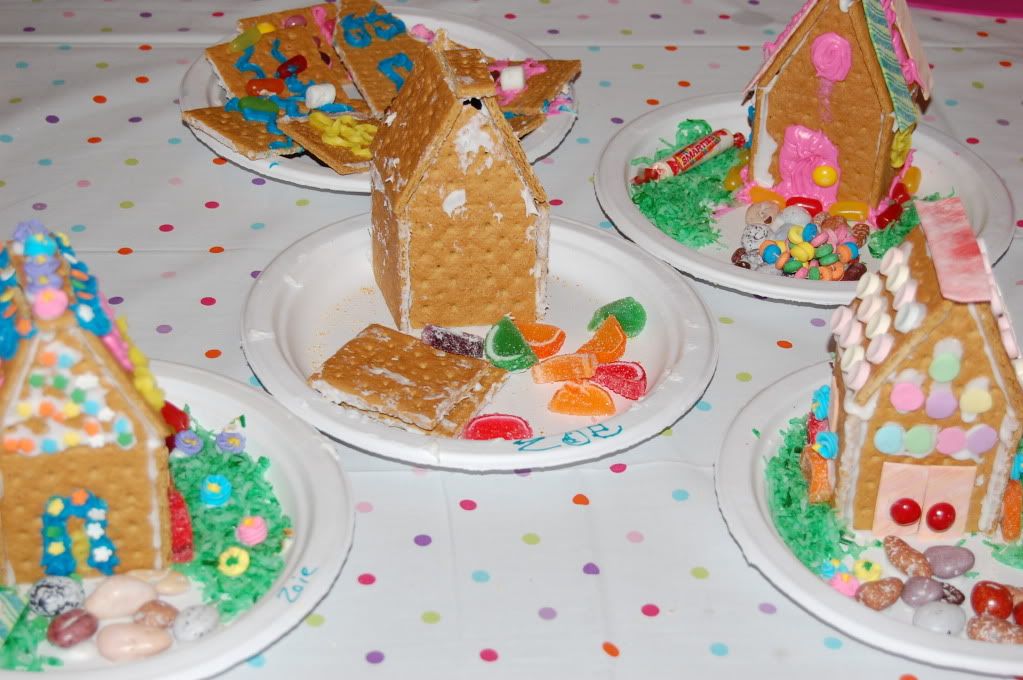 Some didn't get finished and some went ~splat~. All had fun. :)
I will post a how to on the lollipop magnets and houses this week. I strongly suggest making a cottage style gingerbread house this summer if you are like me and don't have time to make them during the holidays.
Kalla
actually got too excited to play with her friends and just made the lollipop, so we will make a house ourselves before back to school. I'm thinking it will be a great when-the-cousins-visit activity and I have plenty of leftovers!!!
FOOD:

Didn't get good pics of the food table. We had yummy raspberry lemonade (Simply Lemonade brand) that was a huge hit. With colorful straws of course! And we had K's request pizza, cheese cubes, lots of fresh fruit and carrots/celery with dip. I made chicken salad croissants for the mommies.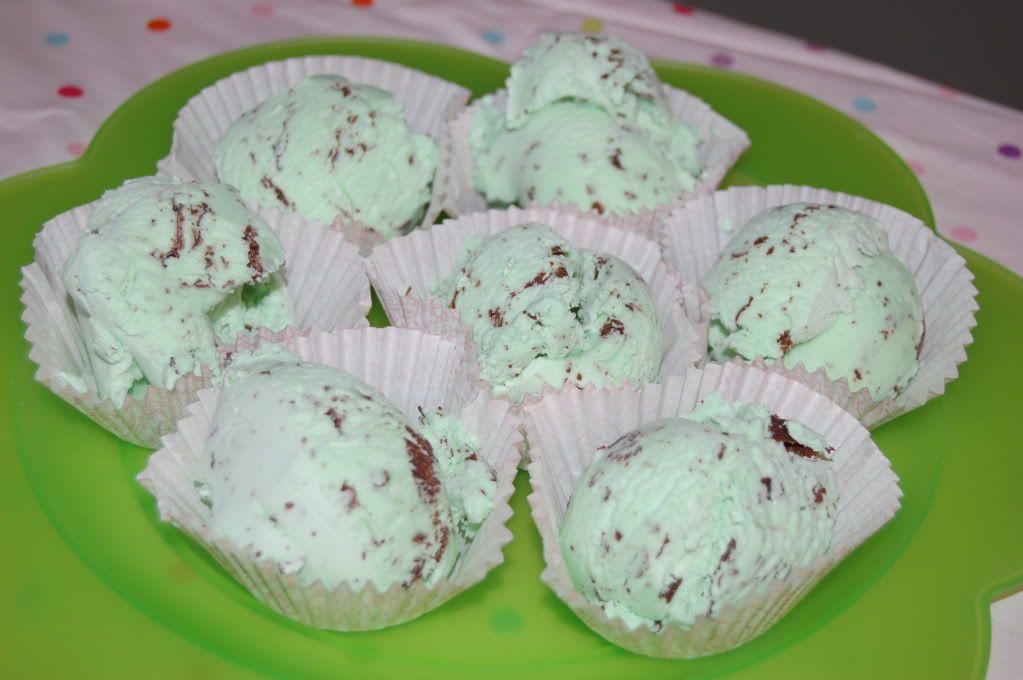 To accompany the cupcakes we had K's
fav
ice cream, mint choc chip. And a friend told me about this INGENIOUS tip she read in a magazine...line a cupcake pan with paper liners and put scoops of ice cream then stick in the freezer. Pull out to serve. Now you've got easy single serving ice cream!! It was brilliant!
PARTY FAVORS: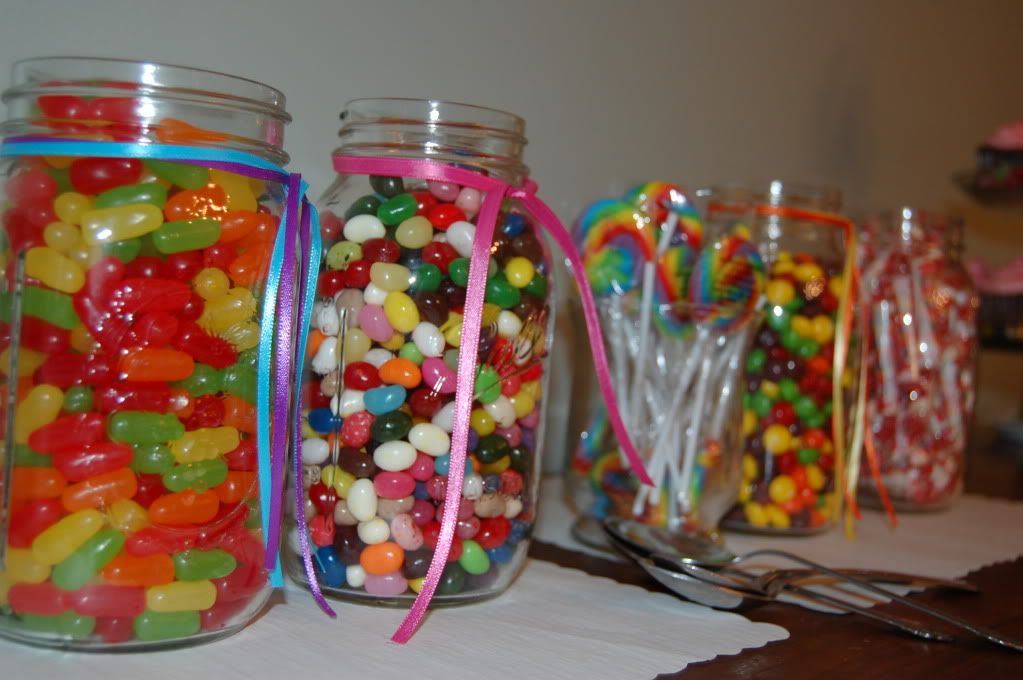 We did a mini candy buffet. I used large canning jars to hold the candy.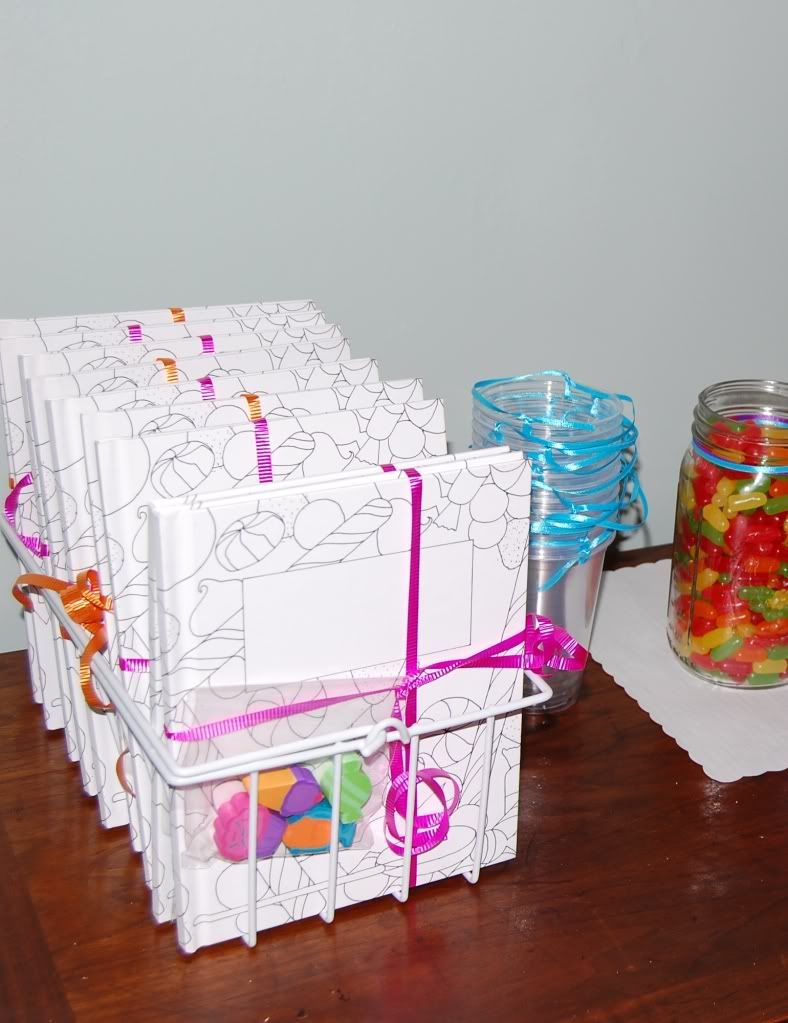 I took clear plastic cups and punched a hole on the sides with a hole punch and put a ribbon handle on it. Then the girls got to fill them up when it was time to go. Also gave them
the bare books and erasers
.
All this made....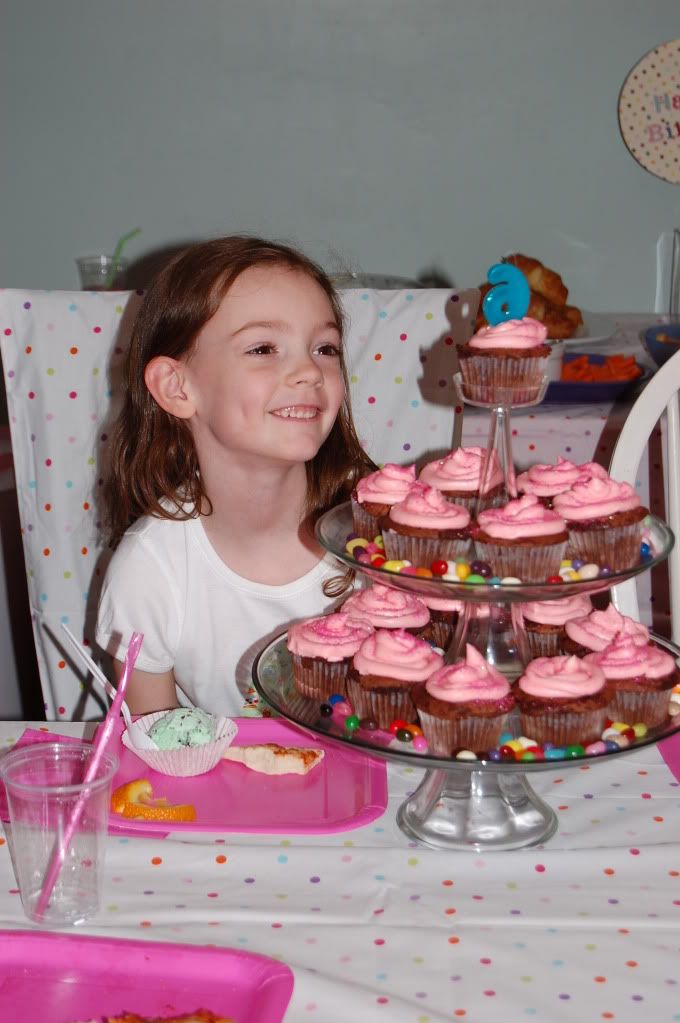 One happy Six year old! :)