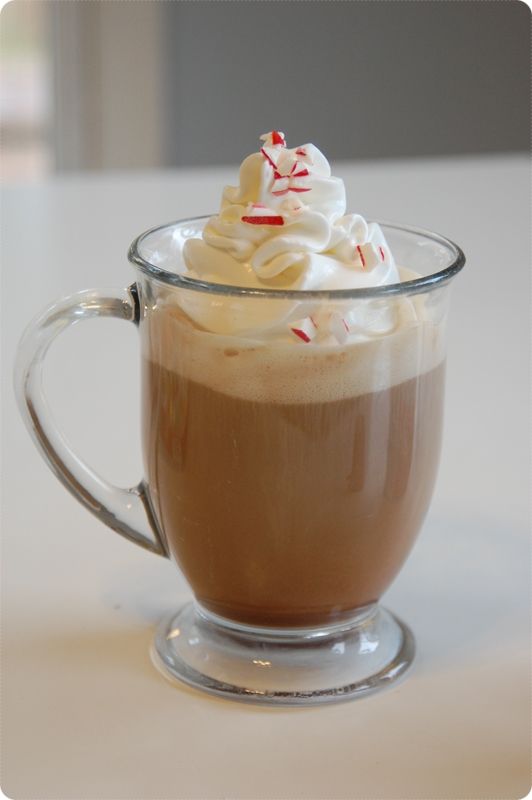 To make your own at home:
Brew strong coffee--I use a bold Starbucks blend and brew 4 tbsp to 3C water--this will make a couple of mochas.
While brewing, pour 1/3-1/2C milk (depending on size of mug) into your mug. Now add a tsp of choc syrup or Quick or cocoa powder. I have tried the syrup and cocoa powder and I like how there isn't any graininess with the Hershey syrup version. Now warm the milk with chocolate in microwave for 1 minute. Fill mug the rest of the way with fresh brewed coffee. Now add 2-3 tsp of peppermint syrup (recipe to follow) and stir. For extra special mocha, add whipped cream (I use fat free) and crushed candy cane on top.
Peppermint syrup:
Put 2 C granulated sugar in a medium sauce pan and 1 C water. Heat and stir til sugar is dissolved. Pour into a reusable container and let cool. Add 1 1/2 tsp of pure peppermint extract.
If you don't want that much peppermint flavored syrup like me, I divided my heated simple syrup into 2 containers and made one peppermint and one vanilla. If you do this, reduce peppermint extract to just under one teaspoon (this extract is strong stuff!). And add 1 1/2 tsp to the other half for vanilla syrup to make yummy vanilla lattes with. :)
Enjoy!