I think I have been planning this party for several years. When I bought some ridiculously cute bear and heart fabric that must be made into a proper twirling skirt. With Maressa's birthday being the day before Valentines Day, a teddy bear themed party seemed to be a must have. As she is turning 4 years old (ACK!!! my
baby
!) next month, I thought it the perfect age for a teddy bear picnic party. Boy has this been fun to plan. Perfect for boys and girls alike with so many activities to keep the preschool crowd busy!
Then I came upon this precious cupcake set and garland. They are my inspiration for colors and decor. They also make a coordinating centerpiece and invitations/thank you notes as well. But I really have a thing about making homemade invites. Closest thing to scrapbooking that I do. ;)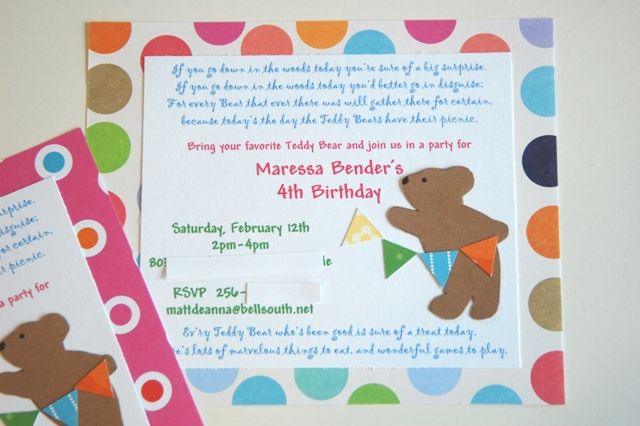 So here are my invites. I used one of the cupcake toothpicks to trace the dancing bear onto brown card stock paper. I printed all the info with my computer leaving space for my little bear. I included parts of the Teddy Bear Picnic poem on the invitation as well. I just copied it from a Teddy Bear Picnic book I got....I'm sure you can google it as well. Then I cut out tiny triangles for the little bear to hold a tiny garland.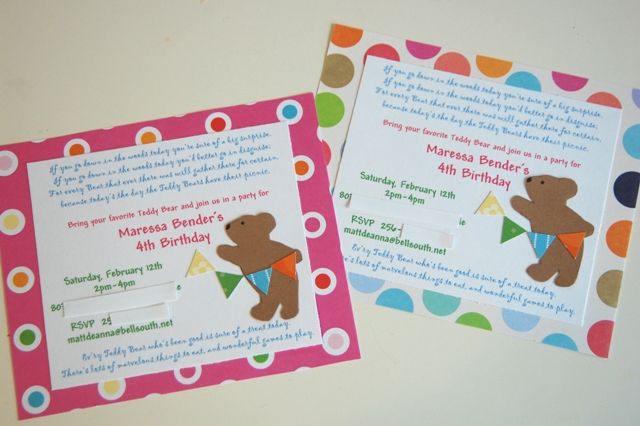 As I didn't have enough of any one printed paper I just used 2 different ones that would match.
So now that those are sent out, I am working on many more crafts for the party.
The party guests will make wooden beaded necklaces for them and their bear.
They will go fishing with fun little take home crafted fishing sets.
They will go on a bear hunt and look for bears with paper binoculars.
All attendees and their bears will have party hats.
And of course their will be a picnic to go on with their individual baskets.
More details to come including a sparkly glitter number 4 tee how to!
Stay tuned!