Been super busy here and gone. We went to my sister's house in SC last week during fall break and the kids had a wonderful time visiting and playing with their cousins.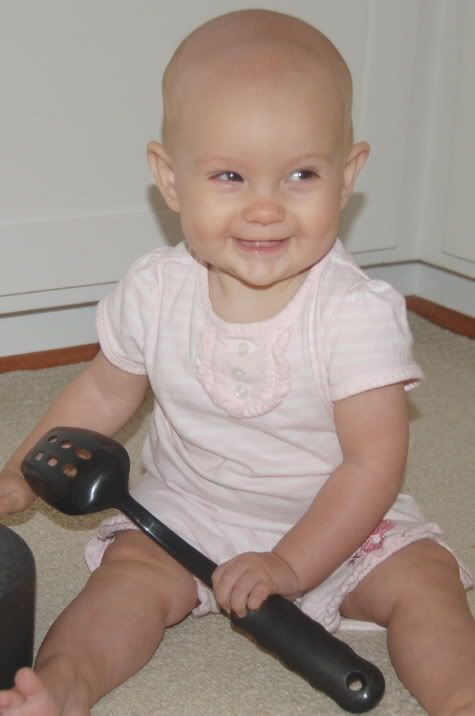 Here is a cutie pic of Maressa at their house. She looks more and more like her dad every day! We came home last Sat night and found a lovely surprise in the boys room. Ugh. A melted pumpkin on their dresser. Zachary picked his own pumpkin at the patch a week earlier and apparently it was a bad pumpkin. It was so gross and it the dresser was NOT salvageable...the gross liquid pumpkin oozed down the back side onto the particle board. View the next photo at your own risk!
So anyway, today I got into my sewing room. There's lots of sewing to be done and I just had to tackle some organizational problems and clean and make more room first. I plan on overhauling my room and lots of paint soon. I am getting a new machine very soon and want to welcome it with a pretty and organized space. ;) While I was cleaning out my room, I found some boxes from our moving last year and found a box of old CD's from college. Feeling a little nostalgic I put on my autographed Hootie and the Blowfish CD as I worked. Brought back memories of hanging out at Matt's old college apartment.
Here's the lovely cabinet I got finished. I moved fabric over to it, from other cabinets. This is my fleece and baby gift stuff stash. I don't sell much baby stuff, but I always make my baby gifts. The fleece is from my collecting it years ago before I found out I couldn't sell the patented Taggies. :)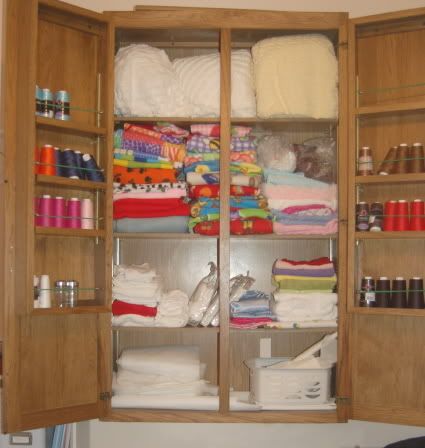 Projects in the works:
*quilted messenger bag with Amy butler's ginger bliss fabric--yum!
*finish knock off burberry plaid apron dress for Kalla started last fall
*knit penquin pants and swing top set for Kalla
*funky preppy 'BABY GIRL' knit dress for Maressa
*pink penguin knit dress and leggings for Maressa
Projects in the planning stage:
*the boy's dinosaur room
*painting my sewing room, playroom and dining room
Now to find the time to do it all!!!