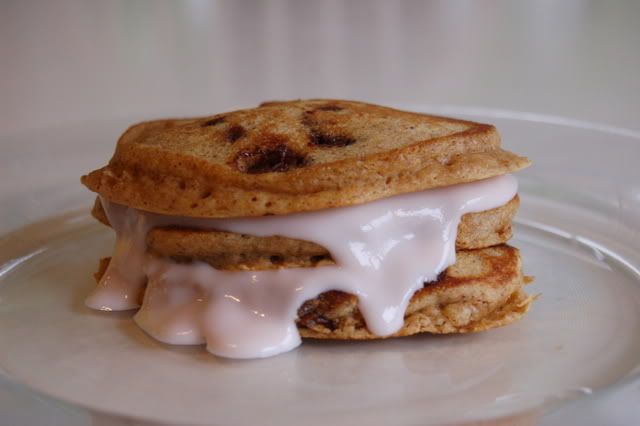 This here is a mighty tasty pancake 'sandwich' I came up with. I've been really trying to get healthier breakfast options for the kids. For years we've done the frozen waffles, mini pancakes and french toast sticks and I've never really felt very good about it. I found whole wheat organic waffles in the freezer section one day and I bought a bunch. But K quickly decided she didn't like the 'brown' waffles and only will eat the yellow ones. Later I stumbled across Aunt Jemima's whole wheat pancake mix and tried to make a go of it. I made the kids chocolate chip pancakes with it. I figured that a few choc chips in the whole wheat pancake is still far healthier than 'yellow' pancakes slathered in butter and syrup. The whole sandwich idea was for my own set. I wanted to add something to the heavy, bit dry whole wheat and was looking for other options than syrup. Then the other day while trying to figure out how to get a little more protein in the morning decided to add yogurt to it. In this picture it's Horizon's organic strawberry between the pancakes. It is very yummy! So that's how we eat pancakes these days. Stacked with a
dollop
of yogurt in between and a big glass of milk.
Mmmm
mmmm
!
And here are some pillows I whipped up the other day for the playroom sofa. The kids have been informed that these are 'mommy's' pillows and not to be jumped on, thrown or smashed.
lol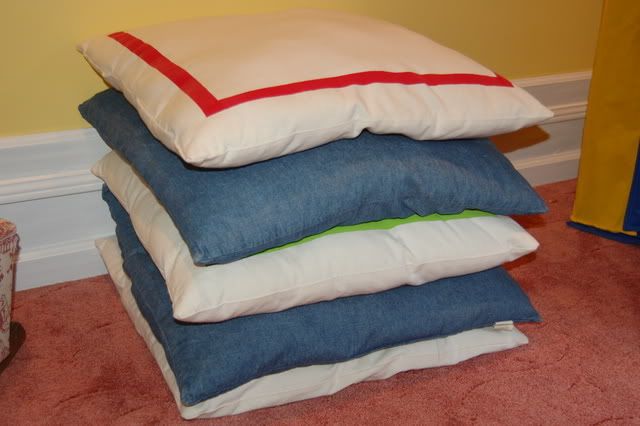 These are their pillows. I made these floor pillows years ago when I barely could sew. The white ones actually...the denim I bought for my bed when I lived alone in an apt. The floor pillows are super easy to make and super durable. I simply bought a big canvas that painters use to cover the floor at the hardware store. It's nice and thick and durable. Cut out big squares and I used masking tape and acrylic paint to make the lines on them. Sewed it up and added stuffing. These they are allowed to lay on, stomp on, etc. In this pic you can see the new color for the playroom...and the hideous mauve carpet. That is the next thing I'm saving for to be replaced. I'm thinking a nice camel colored
berber
.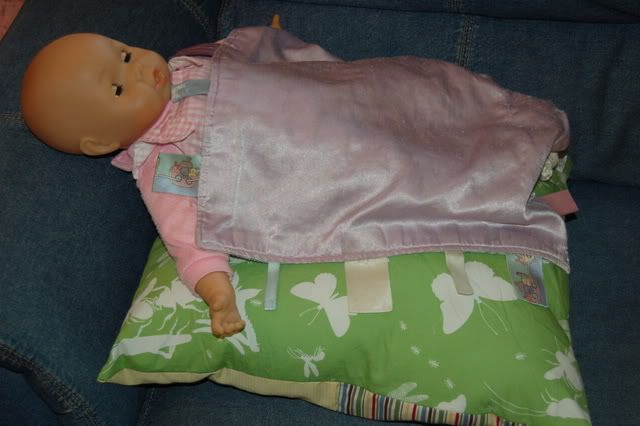 And it took all of 2.5 seconds when K woke from her nap to adopt her 'favorite pillow' of the new stash and made into a bed for her baby...fine by me as long as baby doesn't stomp on it or throw it on the floor. ;)