I'm hosting a cookie exchange party next week and I thought it would be fun to host a blog one as well! So for those who would like to participate in a little blog cookie exchange, here's what we'll do! Post on your blog one or all of the following: a cookie recipe you've been dying to try--then review it, or your holiday favorite treat to give to the neighbors/friends/take to parties. Once you've posted about it/them, comment here with the link. :) I'd love to see what kinds of cookies/fudge/goodies you like to make or have tried.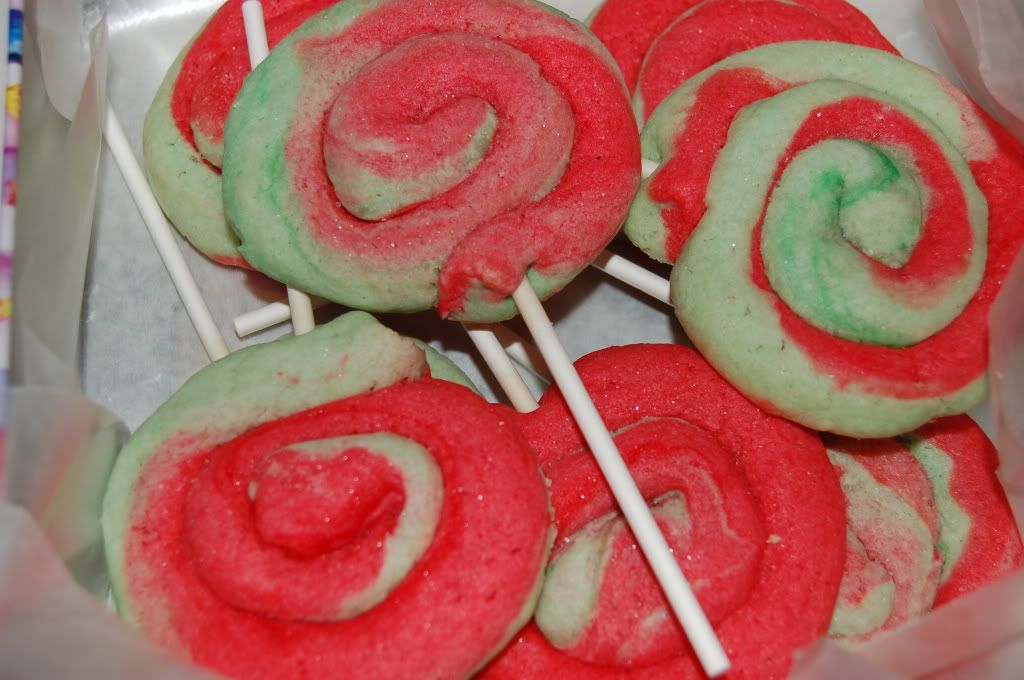 These festive looking cookies I did not make for my party next week, but for my 3 year
olds
Christmas party today. I used this recipe for
playdough

cookies here
and just did them in red and green.
They were SUPER easy to make and fun too...would be fun for kids to help. Only suggestions I have is I had to bake mine for almost 14
mins
compared to the 8 in the recipe...because they are on a stick (to be handled by 3 year
olds
) you cannot
underbake
these. Also
many
of the reviewers said they weren't very sweet and kinda plain. So I doused mine in a good dose of white sugar before baking. After making and trying one (
ok
2) myself, I really like them. They aren't too sweet and kinda shortbread like with a hint of cream cheese flavor. I like that they can be eaten along side a mug of hot chocolate or eggnog without sugar overload. I will definitely be making these again! Oh and I didn't try it yet, but next time I might try a little almond extract to punch them up a little.
Here are a few of my tried and true holiday cookies:
*
Martha Stewart gingerbread cookies
~I make them every year and oh so yummy!
*
my Vanilla rolled cookies I rave about
*my favorite sugar cookie~very rich cookie~recipe to follow:
Sugar Cookie
1/2 C butter
1/2 C oil
1 C sugar
1 egg
2 1/2 C flour
1/2 tsp baking soda
1/2 tsp salt
1 tsp
crm
of tartar
2 tsp vanilla
Mix wet ingredients and dry separately. Combine, then roll into balls. Press down with palm of hand or fork. Sprinkle on sugar (you can roll them in sugar instead before pressing if you like). Bake on
ungreased
cookie sheet for about 10
mins
at 350F. These cookies are a soft cookie and not to be over baked.
And here are some I spotted this year I want to try:
*
Cran

Crackle Bars
*
Spiced Pumpkin dunking sticks
*
Chocolate

Whoopie

Pie
~wouldn't it be fun to tint the frosting green or red?