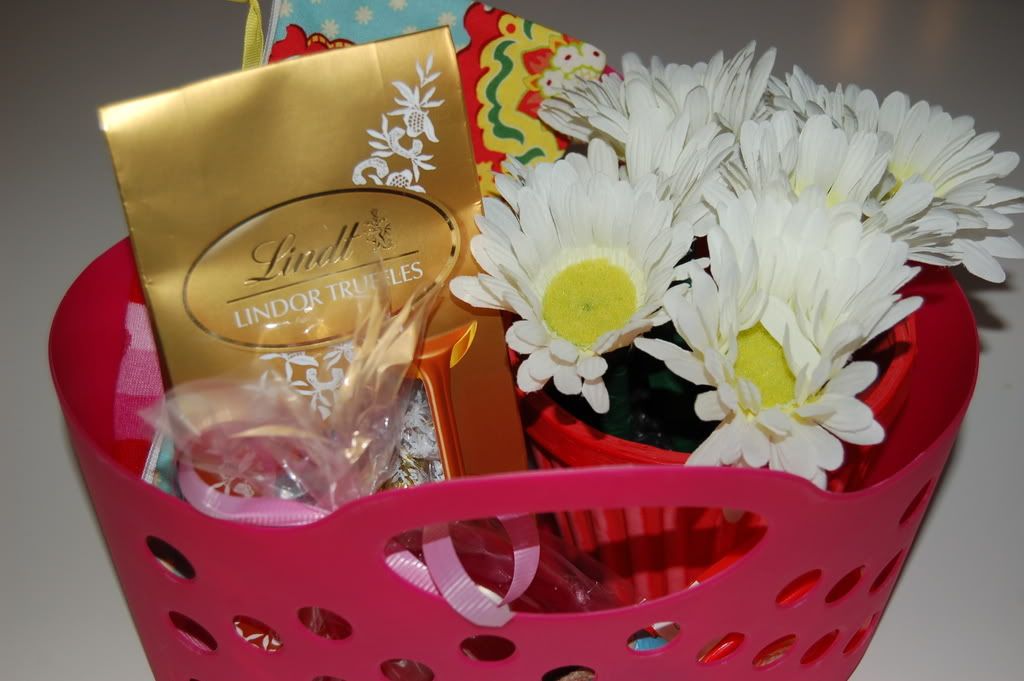 Valentines Day is one of my favorite holidays. AND my birthday is the day before (the 13
th
) so in honor of that I decided to do my first giveaway!
Here it is! This was SO fun to do! If there is decent response I will definitely have to do this again! So what is it?? A basket full of goodies!
The pink plastic tote basket is a Target dollar section find (I bought like 9 or so a month ago to save for future
girly
girl parties). In it is the following:
Lined zippered pouch made by me and cupcake key fob...made by me!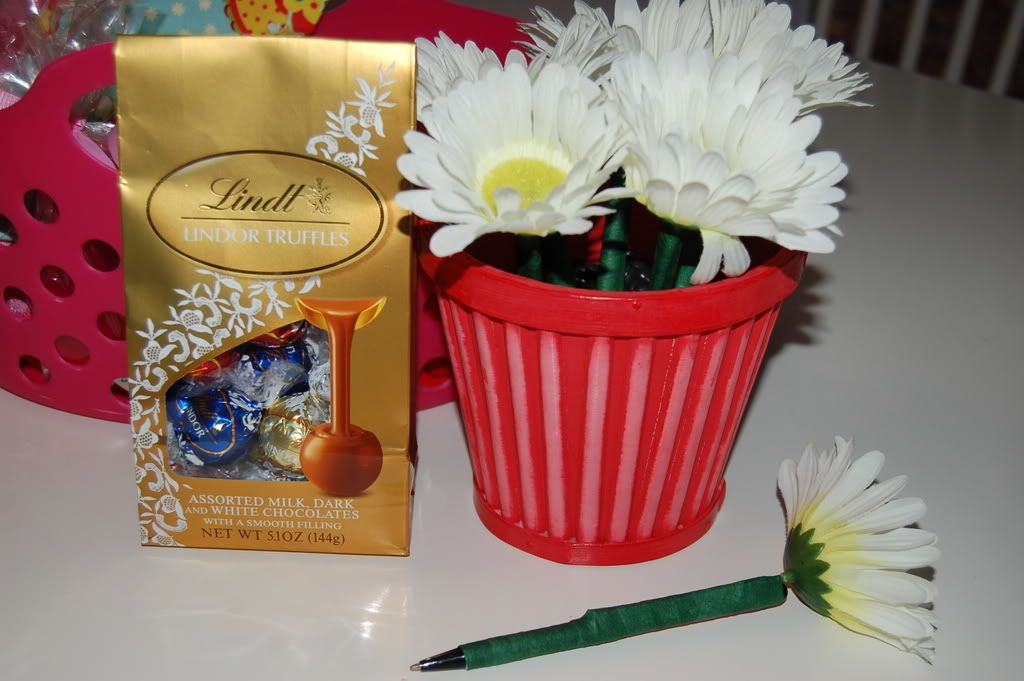 It wouldn't be Valentines without flowers and candy so included is a pot of daisy pens, made by me and my favorite truffles (don't worry I got myself some too!) I REALLY wanted to make a homemade sweet treat, but I felt it kinda risky to send such a thing through the mail and it make it there still edible and all.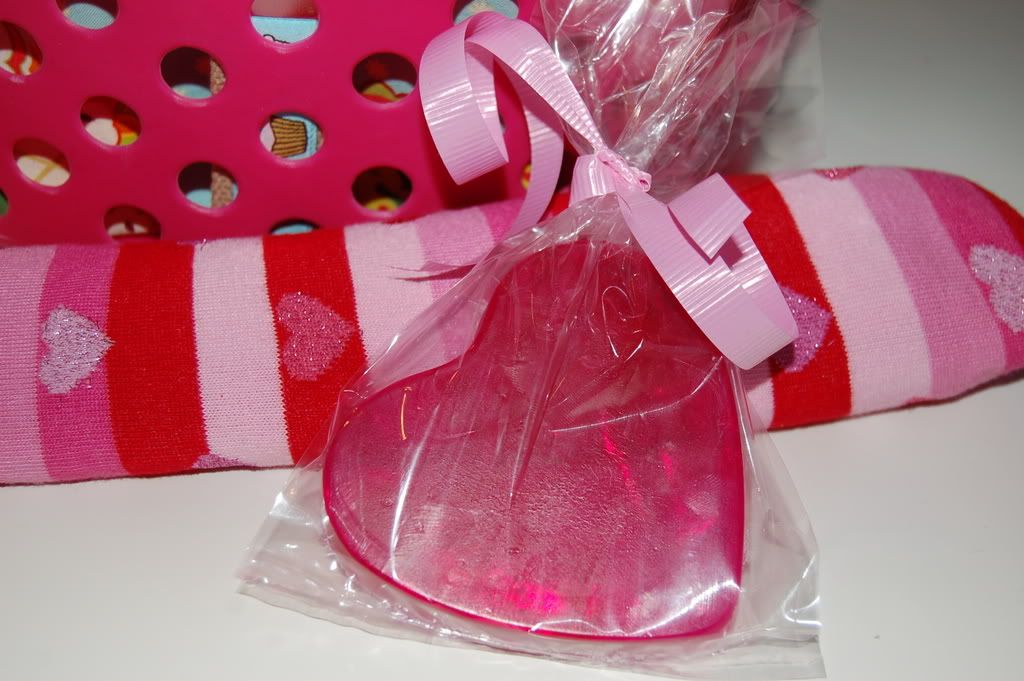 And heart shaped strawberry shortcake soap, made by me and a rice heating pad. The heating pad is long enough to wrap around the back of your neck/on your shoulders, or use it for tummy aches or just to stick under the sheets for a toasty bed! Just microwave 2 minutes to heat. The inner pouch is removable to wash the cover. I actually made the liner with a knee high woman's sock. I originally planned to make leg warmers, but made the girl's different ones. So I though it would make a simple, cozy heating pad. :)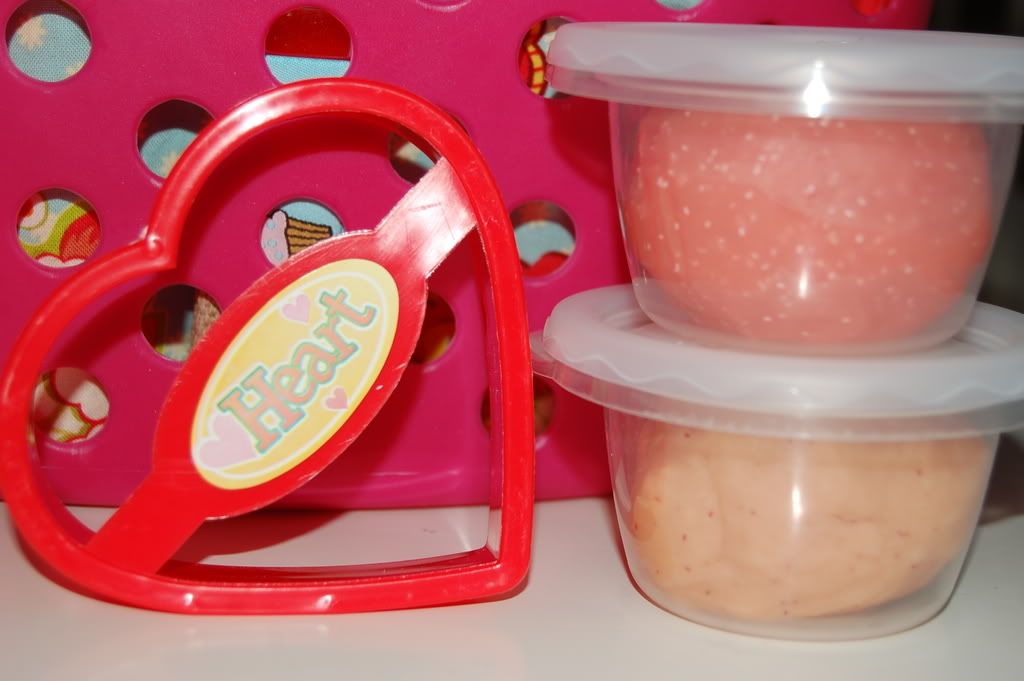 And lastly, I included the kids. Some homemade glitter playdough and a heart shaped cookie cutter. :)

So how do you enter?? Just leave a comment in this post about your most memorable (whether sweet, funny or horrible) Valentines gift. :)
Mine was a trip. Hubby took me to West Virginia for a ski weekend for my birthday and Valentines. This was pre kids, early marriage. One day maybe we'll go back.

I'll post the winner on Thursday. Ship on Friday. For my international readers, I will be happy to mail this to you, but note I can't guarantee it by Valentines Day. :)
While you guys talk amongst yourselves, I've got a room to paint and bunk beds to put together!
*****Drawing is closed! Winner posted in following post! :)*****