Our household was struck with the stomach bug over the weekend folks. Yep all 4 kids throwing up. Luckily (if you can call it luck) one was over it before the other 3 got it. But the three took turns all day Saturday. I'll spare you the gory details. Then of course I who cleaned up after them, held them and consoled them all day got it that night. We all laid low yesterday and getting back to regular things today. So my house is trashed and amazing amounts of laundry. And the first warm day we are able to enjoy is today. So I cleaned out the garage, that I've been itching to do but it was way too cold to do all winter, in between the laundry and dishwasher loads. Then after school we are going to enjoy a bowl of ice cream on the deck and play outside.
SO I have an oldie but goodie from last year to share with all of you that weren't here then:
Alphabet Bunny Books
I made these sweet alphabet coloring books for Micah's 3 year old preschool class party for favors. They were so easy and just super cute.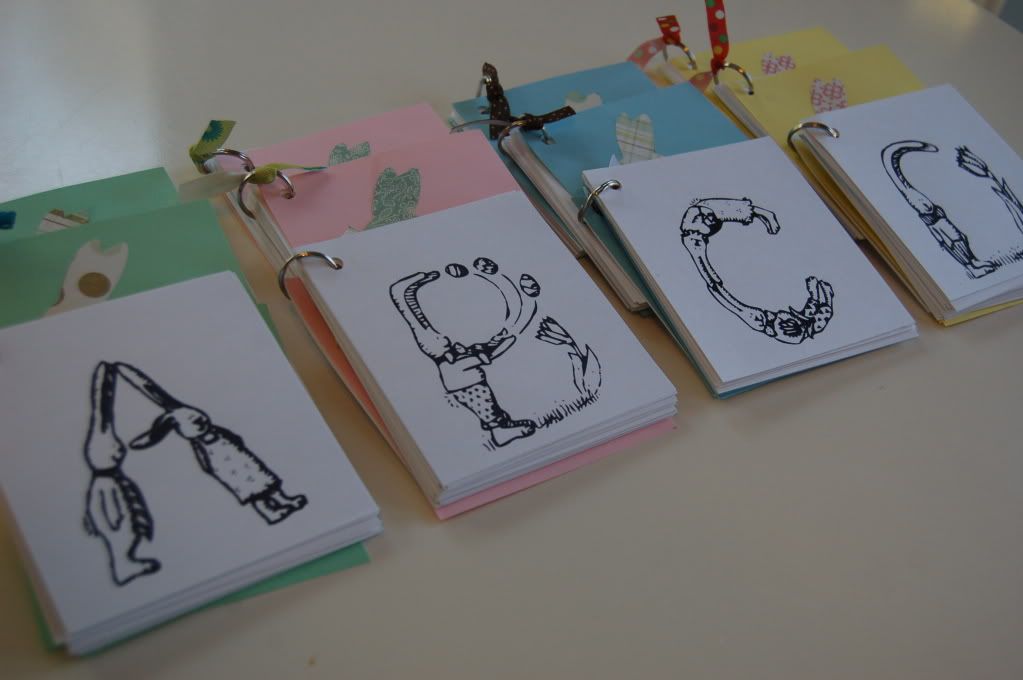 I used these
printable bunny letters
. I opened each file and copy and pasted into a publishing program to make 4 to a page. Printed on white
cardstock
and cut each out. Hole punched in the corner and a key ring holding them all together. For the covers I used colored
cardstock
and a
bunny template
from
Lolly Chops
(yes I discovered many good things there the
other day
). I used the largest bunny and enlarged it 125% on
cardstock
and used it to trace on my scrapbook papers. Then I used Mod
Podge
to glue them on the front. I just added ribbons to the key ring, but might remove them as it hinders turning the pages so they lay flat to color. I will pack these in
cellophane
bags and just tie with ribbon there.