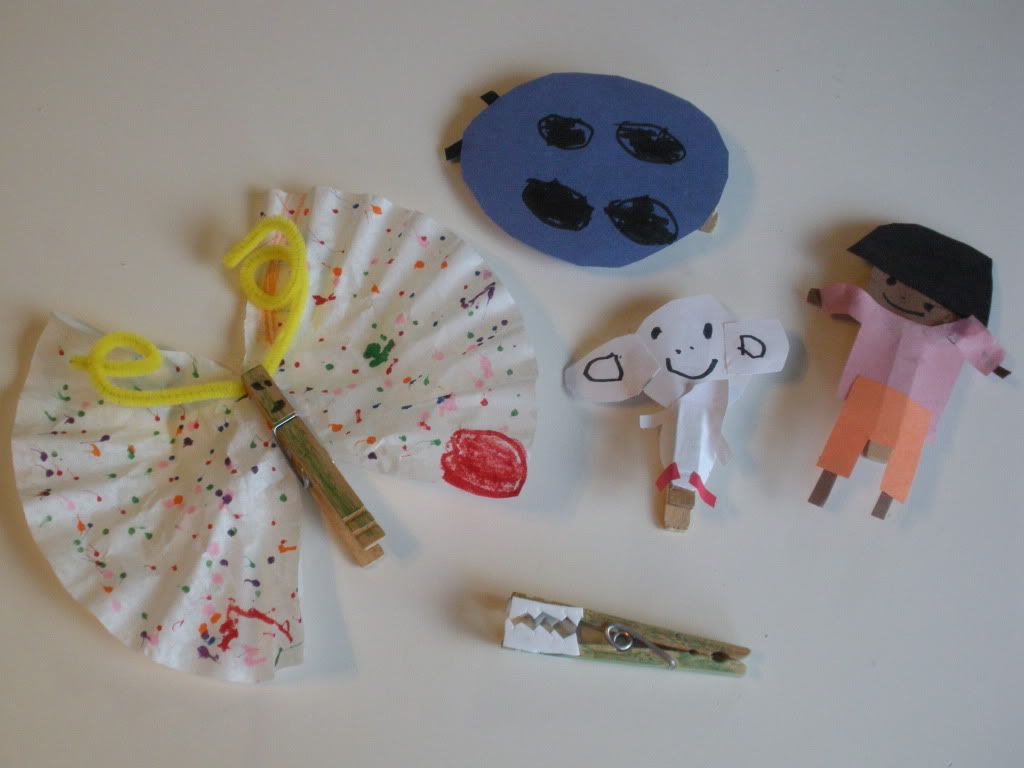 The kids have been making these Backpack Buddies lately. Z found them in his Highlights magazine (Feb 2009) and loves clipping things to his backpack. So he made himself the alligator (the clip with the big white teeth). On a roll, he helped K make the butterfly (I supplied the coffee filter) and Micah the blue ladybug. This morning when I got up (the kids get up before me...6am) he showed me this Dora one he made for his littlest sister (this 2 year old LOVES Dora....we don't have regular cable and don't have Nick Jr, but some old videos she watches over and over). Then he made the Boots too upon her request. This is what I absolutely LOVE about having
organized the kids craft materials
. Every morning that is what they are doing when I get up. Drawing, coloring, cutting, crafting.
But speaking of crafting with kids, I have a whole list of projects and activities I'd like to do with them this summer. Wonderful tutorials and inspiration in blogland. Here's what's on our list so far:
*a kid version of these
cardboard horses
which we'll probably add a horn to make unicorns and much use of glitter probably...K will love these!
*
Black opal mining
*
clay geckos
*more of these
totes
for gifts
*my kids would get a kick out making a bunch of these
Weepuls
*
clothspin windchimes
We might make a roly poly terrarium again too...just for the summer (or til the kids get bored with it).

And I want to make this awesome Family Yahtzee game. The kids would get a kick out of having their faces on a game. Extremely awesome idea!!
I also have a few ideas of my own. Will share when we do them! And more sewing tutorials coming up and parties!
For now I'm headed to COSTA RICA in the morning! Seven days with just hubby. My awesome MIL is watching the kids...they will be totally spoiled I'm sure!
See you guys in a week!