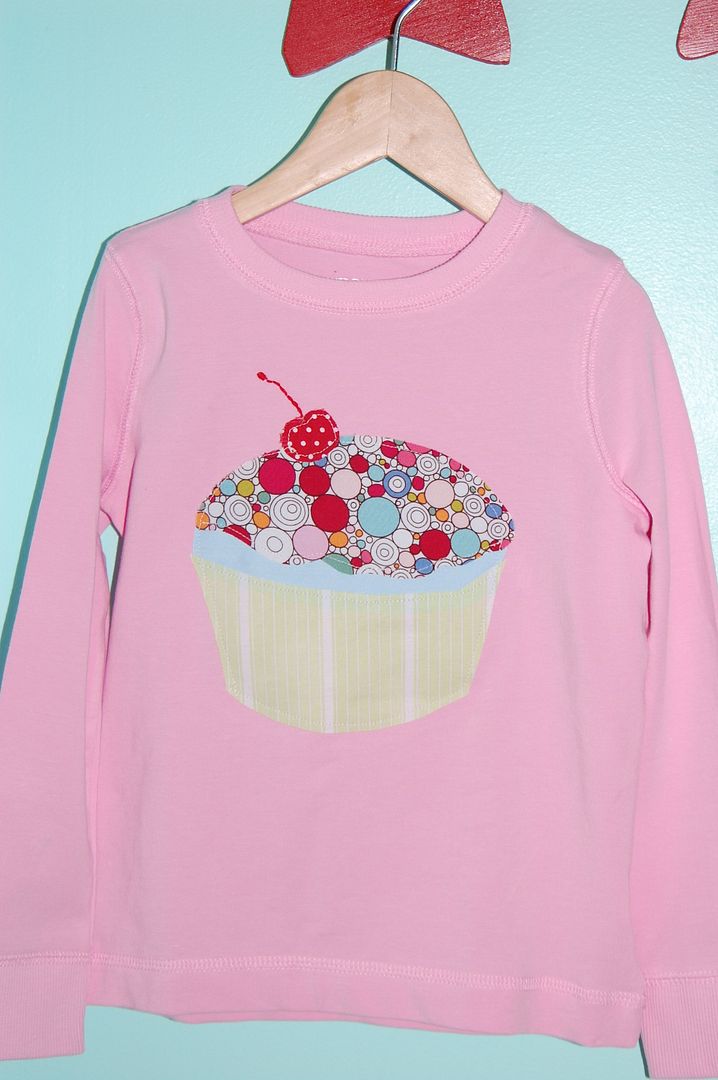 First up for Cupcake Week is a sweet cupcake applique tee. I made this of course for Maressa to wear for her party and Valentines Day and such. Next week I hope to make the matching skirt and finally do my bubble skirt tutorial.

To make your own cupcake tee like this one first
print this page
. I used the cupcake from it to make my cupcake pattern. Then turn the page over and used a sharpie or marker to trace the different parts. I also added a cherry for the top. Now take your wonder under lite and use a pen or pencil to trace each section. I made the top of the cupcake in layers. The blue under layer I traced it down farther than the cupcake wrapper part so I could layer the green fabric over it. So I made 4 separate tracings of each part.
Then I ironed the green slightly over the blue matching the top edges. Then the dots on top and finally the cherry. I topstitched it all down then embroidered the cherry stem with a knot at the top of it.
Here
I talk about some resources for embroidery stitches if you don't know how.
While I had the wonder under out I made Kalla a heart tee. I was planning on doing the same as
last year's
, but decided to make it a little different. I used this very sweet candy printed fabric I had leftover from
Kalla's '6' shir
t for the smaller heart. For the hearts I just drew them. If you are looking for a pattern to use I mention some
here
. :) Then I just embroidered the 'Sweetie' on top. First I wrote the word with water soluble marker then used a backstitch to embroider the letters.
Come back tomorrow for the next cupcake craft! And a
SWEET
giveaway coming up soon! :)